1. Home Alone (1990)
Who wouldn't want to spend the holidays in the City of Lights? The McCallister clan is more than ready to leave the burbs behind for Christmas in Paris. But things go slightly awry (to say the least) when the realize one very important item has been left at home: their son Kevin. The youngster has no problem having the digs all to himself—especially since he's watching mature gangster flicks, munching on ice cream for dinner and causing chaos. But a pair of burglars set their sights on the gorgeous home, and soon Kevin is left to fend for himself against Harry and Marv, both of whom need a little help in the crime department. As the saying goes, "Merry Christmas, ya filthy animal!" Rated PG.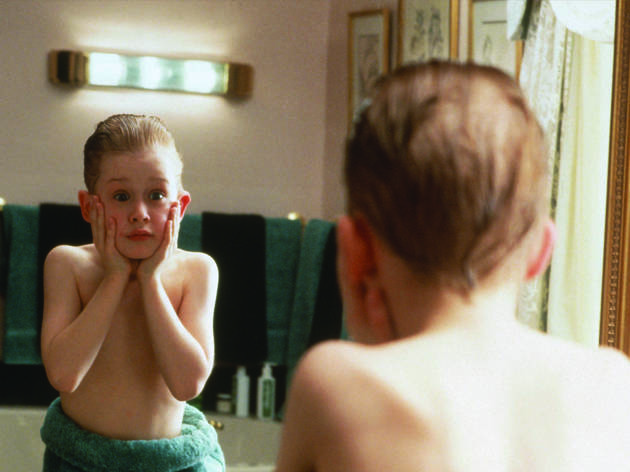 Courtesy 20th Century Fox
Funnyman Will Ferrell delights in a Christmas flick that has joined the ranks of holiday classics. He plays the overly enthusiastic Buddy the Elf, who realizes he's not quite like his peers in the North Pole—he's actually human! With this new information in mind, he goes on a quest to celebrate the holidays in NYC with his family. Although many people would jump at the chance to spend Christmas in NYC (who could blame them, right?) Buddy isn't quite getting the hang of things in Gotham. If you don't watch this one at least once, all we have to say to you is "Son of a NUT-cracker!" Rated PG.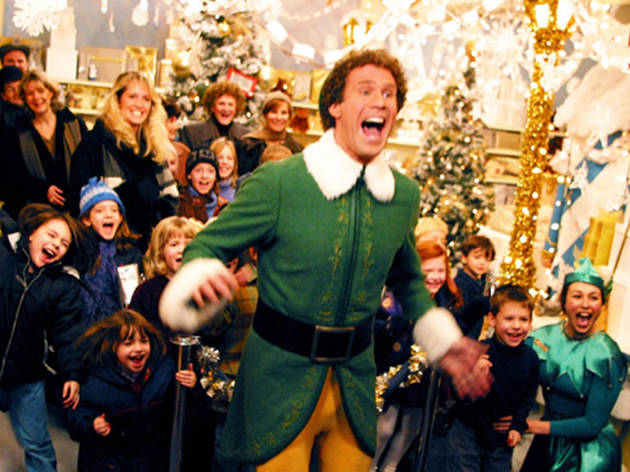 (c)2003 Alan Markfield/New Line Productions
3. The Nightmare Before Christmas (1993)
Not quite sure when to watch The Nightmare Before Christmas? That's easy: Halloween and Christmas, of course! Tim Burton's signature spooky stop-motion flick focuses on Pumpkin King Jack Skellington, who isn't quite as thrilled with Halloween as he should be. He's become bored with the shenanigans and soon diverts his attention to a newfound interest in Christmas. He researches everything there is to know about Dec 25, yet somehow, he manages to cause nothing but chaos for Kris Kringle and co on the big day. This adorable, quirky story never goes out of style. Rated PG. 
Photograph: Courtesy Disney Enterprises Inc.
4. Dr. Seuss' How the Grinch Stole Christmas (2000)
Cartoon or live action. That small-hearted villain from Mt. Crumpit goes down to Whoville for some seasonal spoiling—only to discover that Christmas cheer can never be stolen. This fan-favorite family Christmas movie is not to be missed. Not rated. 
Ever since she was a girl, Elsa (Idina Menzel), princess of Arendelle, has had literally chilling powers. With a wave of her hand she can cover everything around her in ice and snow. However, when her frosty abilities nearly kill her sister, Anna (Kristen Bell), Elsa is confined to a room in her castle, not to emerge until she comes of age for her queenly coronation. On that day, unsurprisingly, things go very awry, and the two sisters—with help from a friendly snowman who dreams of spring—must work together to save the kingdom from eternal winter.
Plasticine CG animation brings the icy world to life in this Walt Disney musical production, which sparked a nationwide frenzy to scoop up any and all themed merchandise. The almost instantaneous popularity speaks to the film's success with the peanut gallery—not to mention countless parents who admittedly sang along to Menzel's showstopping, self-actualizing ballad "Let It Go" more than a few times. Rated PG.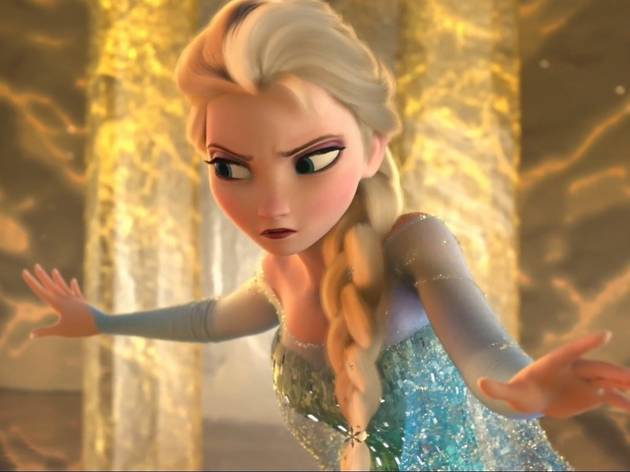 Photograph: Courtesy Walt Disney Animation Studios and Walt Disney Pictures
6. The Elf On The Shelf Presents: An Elf's Story (2011)
Everyone has found a spot (likely several) for an Elf on the Shelf. The annual visitor is placed in unique situations and acts as a North Pole spy for Santa (hopefully ellicting good behavior, though that's not always a guarantee). Thanks to the newfound tradition's popularity, it has received the holiday movie treatment. In the animated story, we journey alongside Taylor. The young boy hasn't quite embraced the holiday spirit, so Chipey is sent from Santa's workshop to assess the situation. Although tricky at times, Taylor and his new buddy discover the importance of the season together. 
Photograph: Courtesy CCA & B
7. The Polar Express (2004)
Chris Van Allsburg's enchanting children's book made its way to the big screen as an animated flick in 2004, drawing a new generation in for even more family fun. As the story goes, on Christmas Eve, a young boy finds a train parked outside his house—The Polar Express—which is headed to the North Pole! He finds out he's been picked to receive the first gift of Christmas, and he asks for only one thing: a silver bell from Santa's sleigh. But what happens when he tries to take the bell home with him? Rated G.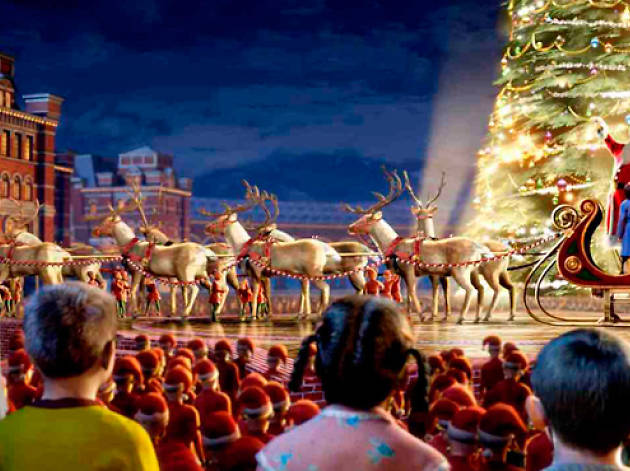 Photograph: © Warner Brothers/ABC Family
8. Santa Claus Is Coming To Town (1970)
December is a highly anticipated month, largely thanks to Saint Nick's Christmas Eve pilgrimage. In this '70s film—narrated by none other than Fred Astaire—families get a taste of how the Christmas magic comes to be. Expect to learn how reindeers fly, how exactly Santa makes his way down the chimney and even how Mr. and Mrs. Claus were first introduced. D'aww! Despite some scrooges along the way, this sweet story prevails and makes this time of year all the more jolly and bright. Not rated.  
Photograph: Courtesy Warner Bros.
Christmas is meant to be a joyous time, yet it's anything but for Charlie. The youngster has grown to hate the holiday, since it marks the death of his fame-hungry rock n' roll father. Things are difficult, until Charlie realizes he and his pop have a second chance: The family snowman has actually turned into his dad! It's crazy, but he's willing to embrace any opportunity to spend quality time with his old man and rebuild their relationship. Rated PG.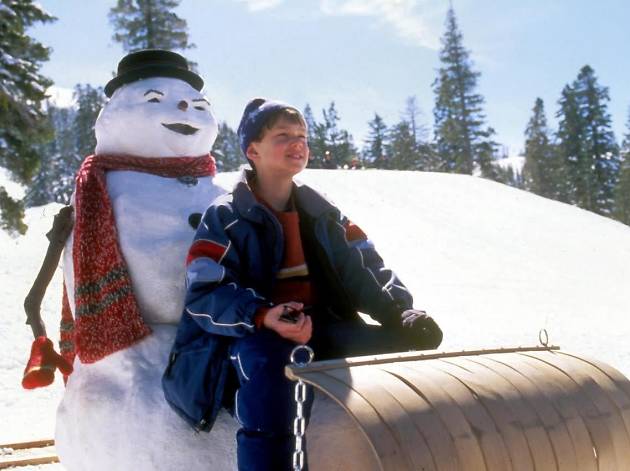 Photograph: Courtesy Moviestore/REX/Shutterstock
10. Miracle on 34th St (1994)
Is that bearded fella really Santa Claus? Macy's hires gentle Kris Kringle to be its department store St. Nick, but his stellar commitment to the job (as well as insistence on being the genuine article) has all the kids in awe. Unfortunately for Kris, many considered his wonderful behavior and magical affect quite unusual—so unusual that he actually ends up at Bellevue! Will he be freed and his reputation redeemed? You'll just have to watch to find out. Rated G. 
11. National Lampoons Christmas Vacation (1989)
All Clark Griswold wants is a storybook Christmas—a gorgeous tree, a turkey with all the trimmings and his family under one roof. Vengeful neighbors, a tiny living room, an underwhelming Christmas bonus and Cousin Eddy stand in the way of his holiday fantasies. How will the clan recover from all the chaos? Note that this is a selection better suited for tweens and teens. Rated PG-13.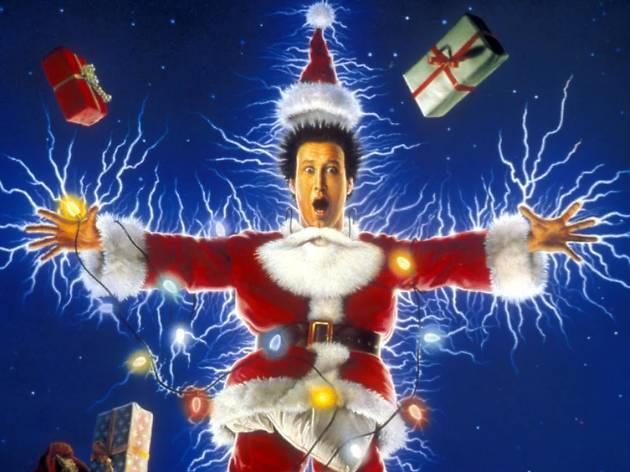 Photograph: Courtesy Warner Bros/Kobal/REX/Shutterstock
12. Santa Claus: The Movie(1985)
Set in 14th century, the film tells the story of an old man and how he becomes Santa Claus. Jump to 20th century where Santa Claus is tired with the increased workload and the ever-growing population.
13. Arthur Christmas (2011)
This smart and very British 3D animation from the Aardman stable opens with one of life's great questions: how does Santa visit so many homes so quickly? The answer, it seems, is a high-tech army of elves dispatched, SAS-style, from a silent spaceship disguised as a cluster of stars. But it never used to be like this, not before Santa's eldest son, Steve (Hugh Laurie), modernized the operation. Nevertheless, one parcel slips through the net, so it's left to Santa's sensitive younger son, Arthur (James McAvoy), and the retired, grumpy Grandsanta (Bill Nighy) to deliver the package using reindeer and sleigh. All of which inspires a frenzied inter-continental dash and one too many padded-out mishaps. What makes this festive fantasy engaging is the savvy way in which it debunks cold efficiency in favor of more wholesome values. Rated PG 
14. White Christmas (1954)
Swap Connecticut for Vermont, turn the entertainment troupers into former military troopers and slather on Technicolor sheen: You'll be forgiven for thinking this Bing Crosby musical is just a toe-tapping variation on Holiday Inn. But it's still a swell time, and no one should begrudge another cinematic victory lap for the juggernaut title song. Not rated.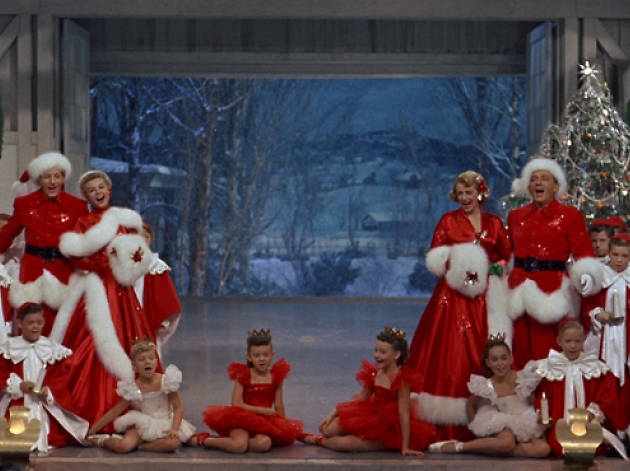 15.

Jingle All the Way (1996)
Arnold Schwarzenegger faces his most harrowing enemy yet: the holiday shopping crowd. The Governator in his "family comedy" period is desperate to get the last remaining Turbo-Man action figure on Christmas Eve—even if it means fighting a Santa with candy-cane nunchucks. The contorted mix of action-hero hijinks and lowbrow jokes is just silly enough to make all the members of your family smile. Rated PG.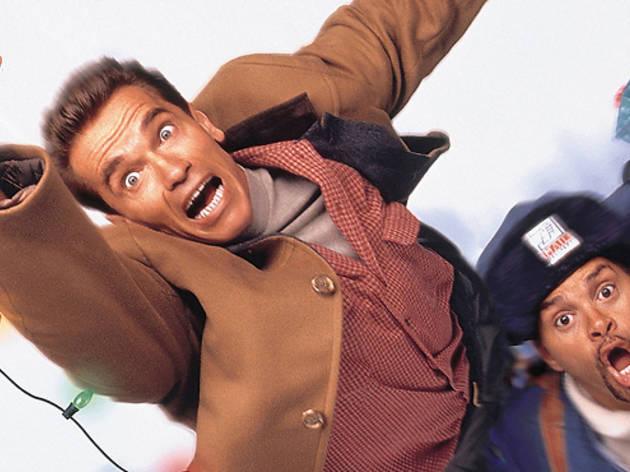 16. The Santa Clause (1994)
Did anyone ever stop to think about a Plan B if Santa can't embark on his Christmas Eve pilgrimage? One single dad finds out. As Scott Calvin (Tim Allen) tucks his little boy in—while reading The Night Before Christmas—the two hear a thud on the roof. It's the man in the big red suit! But, the experience is anything but holly jolly, as Santa's been injured. Scott must take the place of St. Nick—and even journeys to the North Pole with his youngster—but his mother and her new boyfriend aren't thrilled with these holiday shennanigans and even go so far as to say this illusion is made up. Well…not exactly. Rated PG. 
17. A Charlie Brown Christmas (1965)
Even if Charlie Brown's Christmas tree is a little..uh…bleak, we can't help but spend our holidays with the Peanuts gang—it's tradition! In this 60's classic, we find our favorite character, Charlie Brown, feeling a bit blue around Dec 25, and his efforts to conduct a festive play didn't exactly go as planned. It's up to Linus to show him what this time of year is truly all about! Snag the coziest spot on the couch and relive the fun from Charles Schulz's beloved cartoon. If you miss it, you'll certainly say, "Good grief!" Rated G.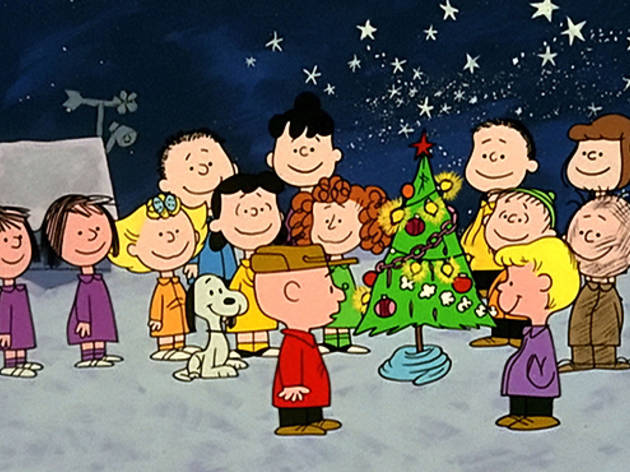 18. Abominable (2019) 
After discovering a Yeti on the roof of her apartment building, teenage Yi and her two friends embark on an epic quest to reunite the magical creature with his family. But to do so, they must stay one step ahead of a wealthy financier and a determined zoologist who want to capture the beast for their own gain.
19. 

The Muppet Christmas Carol (1992)
Second only to Muppet Treasure Island (sorry, we're biased), Jim Henson's The Muppet Christmas Carol retells the famous tale with characters like Kermit and Miss Piggy. The musical—set in the Victorian era—features Michael Caine as Scrooge among puppets. Rated G.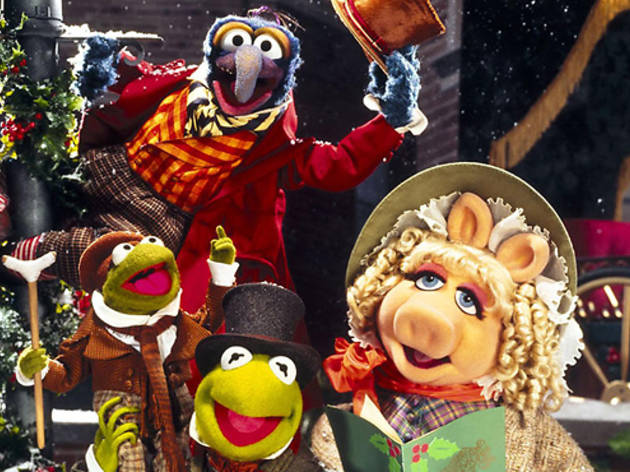 20. Mickey's Magical Christmas: Snowed in at the House of Mouse (2001)
A necessity for any mouseketeer in your life, Mickey's Magical Christmas focuses on what happens when Disney's most beloved characters are stuck inside because of a snow storm. Rather than feel blue about being trapped indoors, the crew decides to throw a Christmas party, though it's going to take some work to ensure that Donald Duck gets out of his Scrooge-like funk. Rated TV-G.
21. Curious George: A Very Monkey Christmas (2009)
George and The Man with the Yellow Hat are so excited for Christmas to arrive; they've busied themselves with fun activities like picking out a Christmas Tree and making a Christmas list, but they're having a little bit of trouble figuring out what to get for each other. The Man with the Yellow Hat can't really understand what George has asked for, and George has trouble making his gift for The Man with the Yellow Hat. Will they figure things out by Christmas morning? Not rated. 
22. Olivia: Merry Christmas, Olivia (2010)
Your favorite Nickelodeon 6 ¾-year-old piggy Olivia is back in action in this series of live episodes. You'll follow Olivia as she wishes to become a Santa that returns lost toys (her favorite toy monkey Matilda is missing). You'll also see her trying to make the perfect family Christmas in the middle of summer (complete with a snow machine). Above all, Olivia just wants everyone to have a great Christmas, and you'll follow her on heartwarming adventures that your kids can really relate to. Not rated. 
A small-town teen gets an adorable furry creature as a Christmas gift. But there's a catch: don't get him wet—and don't feed him after midnight. Those with a wicked sense of yuletide cheer will love the subversive anarchy of this Steven Spielberg production, a gleefully black lump of coal that's equal parts fantasy and horror. Rated PG.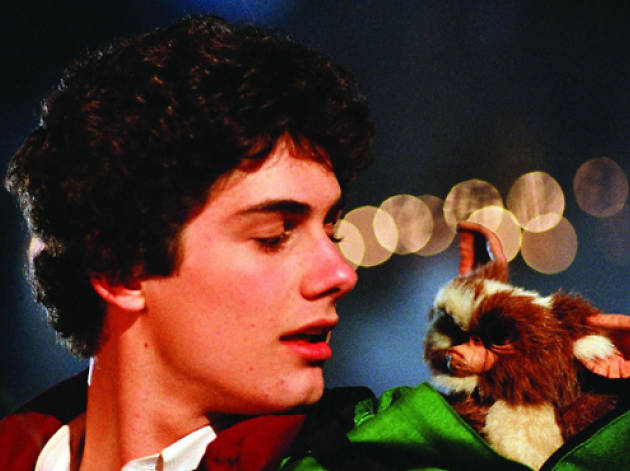 24. The Christmas Chronicles (2018)
Siblings Kate and Teddy Pierce hatch a scheme to capture Santa Claus on Christmas Eve. When the plan goes awry, the kids join forces with a somewhat jolly Saint Nick and his loyal elves to save the holiday before it's too late.
25.

A Garfield Christmas (1987)
Oh, Garfield. A typical day consists of snacking, giving Odie a hard time and more snacking, but things change during the holidays. When his owner brings the crew to his visit his parents for a Christmas celebration no one can seem to agree on how to spend their time—a classic predicament during the busiest time of the year. Despite his typical mischevious ways, Garfield manages to get everyone to cooperate and appreciate what Dec 25 is all about. Not rated.
26. Dr. Seuss' How The Grinch Stole Christmas (2000)
Jim Carrey takes on Dr. Seuss' famed holiday troublemaker in this live-action remake. The Grinch has some lingering resentment toward Christmas, and separates himself from the town of Whoville as a result. But can one little lady change his mind about the most wonderful time of the year? Rated PG. 
This oddball origin story of Santa Klaus is the first animated feature from Netflix, and features Klaus (Oscar-winner J. K. Simmons), a large, bearded man with a knack for toymaking but who doesn't have much interest in children, Jesper (Jason Schwartzman), the worst postal carrier ever and Alva (Rashida Jones), a cynical teacher. They live in Smeerensburg, the unhappiest place on Earth. If it sounds like a grump-fest, well yes, that's the setup. But don't worry: Icy hearts melt, and even Smeerensburg can find joy.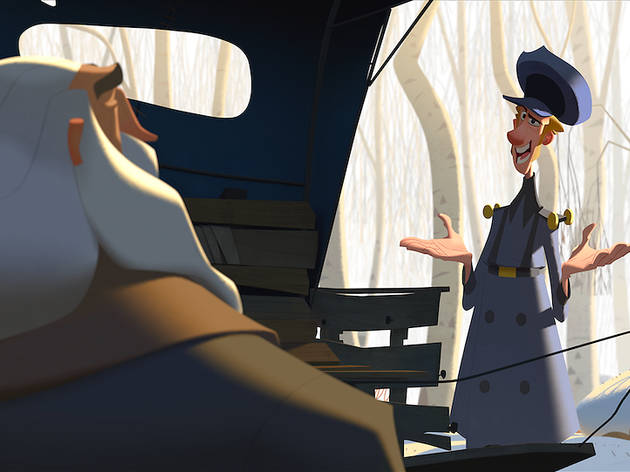 Courtesy Netflix
28. Arthur Christmas (2011)
When Santa's gawky son Arthur learns that owing to a technical glitch a little girl's Christmas gift has been misplaced, he sets out on a mission to deliver the present before it is too late.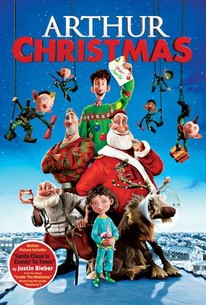 29. Santa Paws (2010)
Santa Claus and his faithful canine companion Santa Paws leave their chilly home at the North Pole on an important mission. They must try to persuade the heir of one of their greatest benefactors, toy store owner Mr Hucklebuckle, to continue with his grandfather's good works.
30. Christmas with the Kranks (2004)
The Kranks scandalise everyone when they declare that they won't be celebrating Christmas. But, when their daughter decides to visit home, they get off on a mad rush to organise a spanking Christmas.
31. The Star (2017)
Bo, a donkey, is bored of his regular life and wants to do something different. He sets on an adventurous journey where he meets Ruth, a sheep, and Dave, a duck, who make his journey worthwhile.
32.

Frosty the Snowman animation (1969)
Ever wished your snowman would come alive? This 1950s classic—and its earworm hit song popularized by Gene Autry—tell the tale of a snowman doing just that! After children give him a magical silk hat discarded by a local magician, he becomes real and befriends a little girl that plots to keep him alive forever. The two head to the North Pole in hopes that he'll never melt, but it seems they're not the only ones interested in the hat's magical properties.
 Rated G.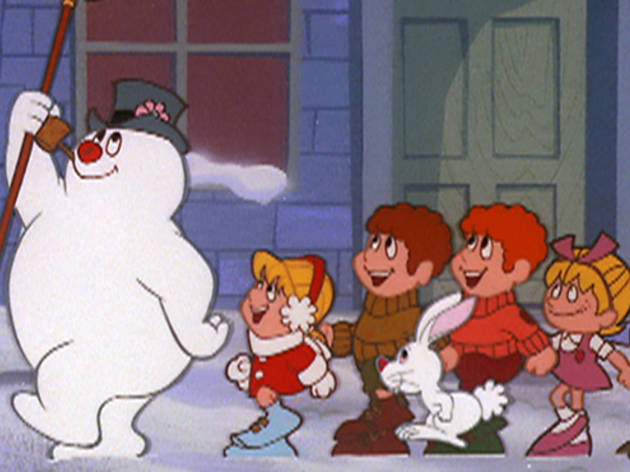 33.  Noelle (2019)
Kris Kringle's daughter is full of Christmas spirit and holiday fun, but wishes she could do something "important" like her beloved brother Nick, who will take over for their father this Christmas. Nick is training to be Santa, but is failing miserably. When Nick is about to crumble like a gingerbre

ad cookie from all the pressure, Noelle suggests he take a break and get away to clear his head…but then he doesn't return.
34. Trolls Holiday (2017)
Trolls Holiday is a 2017 Christmas special that premiered on NBC on November 24, 2017. Based on the film Trolls, the half-hour Christmas special was directed by Joel Crawford and produced by DreamWorks Animation.
After Queen Poppy and the Trolls took away Trollstice from Bergen Town, the Bergens have no holidays to celebrate. After receiving cards from the Bergens (all of different days of the week or times of a day), Poppy comes up with an idea, to give the Bergens some of their holidays to celebrate the season. The queen enlists her friend Branch (who is new at this "happy" thing), and the Snack Pack, to travel to Bergen town by bus, driven by Cloud Guy (much to Branch's annoyance). After the trolls travel through a crazy wormhole, Poppy, Branch and the Snack Pack arrive in Bergen town, to give the Bergens some holidays to celebrate.
35. Rise of the Guardians (2012)
When Pitch, an evil spirit, returns to planet Earth to assault children and take over the world, a group of immortal guardians with extraordinary abilities join forces to protect the world.