About Stikets – 
Labels for your Littles!
Stikets are a really cool label company which offer a giant selection of ways to do so!
The company was born in 2010 as the result of an idea by a mother, Stephanie Marko whose aim was to offer a practical, effective and economical solution to mark clothes, books, shoes, school supplies, backpacks and any other object to make life easier for families to prevent those missing items!
Since then, Stikets has taken the aim of helping families to its broadest sense, as a transversal idea. Thus, in addition to constantly innovating to ensure the highest quality of all products, we work to make Stikets a quality company, committed to conciliation and equality at all levels.
Stikets currently have more than 200,000 clients from 15 countries across Europe, the United States and Latin America as they believe that values are not incompatible with productivity. 
Stikets main goal is to make everyday life easier for families – that is why they keep innovating and creating new quality products, such as name stickers for clothes or hanging loops, designed to make your everyday easier.
"At Stikets are perfect for both labelling school materials and for labelling objects that need to resist regular washing such as bottles and pacifiers. Furthermore, the Name Stickers are also designed for exterior use, so their waterproof and UV resistant properties make them perfect for labelling umbrellas, suitcases, bicycles, trolleys, toys, etc.
Identification bracelets are perfect to reduce the risk of children or elderly people getting lost and reducing the time it takes to find them if they do. Although they are designed for a single use, they can remain in perfect condition for weeks, making them very useful in summer for going to the beach, or in winter for going trekking. They are also used for excursions, camps, trips, amusement parks or shopping centres.
Also, at Stikets you will find ideal solutions to organise and decorate your house. The Chalkboard and Wall Decals are perfect to keep track of your household items and decorate your kitchen or children's rooms. You can also customise your best photos with the text you want with Stikets Mounted Photo frames and Personalised Photograph Decals. In addition, you will find Kids and Wall Decals to decorate and, at the same time, to stimulate the imagination of your children."
You can find at Stickets.co.uk
Their Website
Charity
As a company they also want to actively collaborate with society and encourage a change in mentality. In addition to promoting charitable actions, such as donations to the Food Bank, they also are committed to equality and to reconciling family and work.
What I received
I received two lots of the Basic Packs which came in brilliant packaging, quick delivery and an assortment of different ways to label so suitable for all.
Basic pack is £19.95 each and contain 142 labels:
48 small Iron-On Clothing Labels

84 name stickers for objects (36 minis, 24 small, 20 medium, 4 big)

8 shoe labels (4 pairs of shoes)

2 luggage tags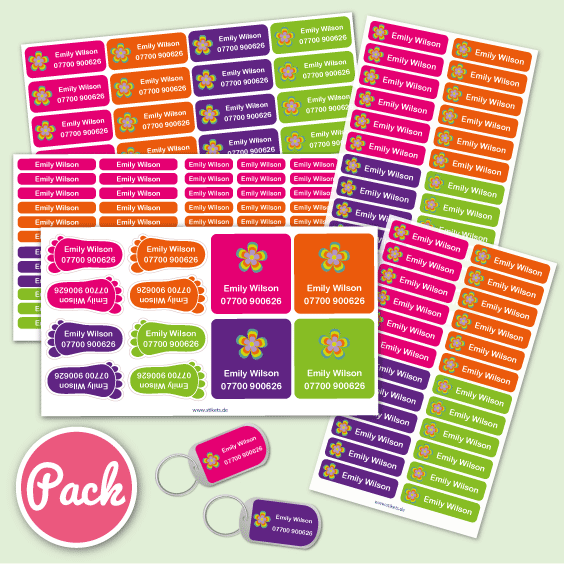 I used them to label my son and daughters school items!
Stikets luggage tags are the easiest, quickest and most convenient way to identify your luggage so you do not lose anything when you and your family go on a trip. You have two options when it comes to labelling your luggage:
Luggage Tags– these metallic tags with key ring can be hanged on handles or zippers. They are extremely resistant!

Luggage Labels

 – these stickers can be applied in a few seconds by pressing firmly on a smooth surface of the luggage.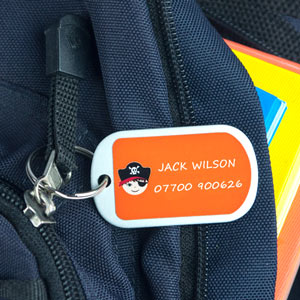 Iron on Clothing Label
Make sure your items comes back with the kids with their Iron on labels! I've found them great as they are durable as well as cute. These nifty iron on labels keep their hold up to 60 degrees laundry safe and once they are applied correctly, they will stick like anything!
For personalized you can choose a font, any font, and add up to two lines of information that will make identifying and/or recovering your articles a breeze.
They are made of high quality thermally-adhesive material. They are ironed directly on the clothes in 10-15 seconds and with the heat of the iron, the material of the label fuses with the fabric of the garment, so they are extra resistant to the washing machine, to the dryer and soft on the skin, yet are tough enough to withstand the daily grind. 
For optimal results it's recommended to use the labels within 2 years after purchase.
The iron-on label looks exactly the same as it did when it went into the machine, and if I try to peel it off there's absolutely no give at all.
Although the ironing takes a bit of a while as I hate ironing, I give it 9/10 and I think it will probably last for the whole year which is fantastic.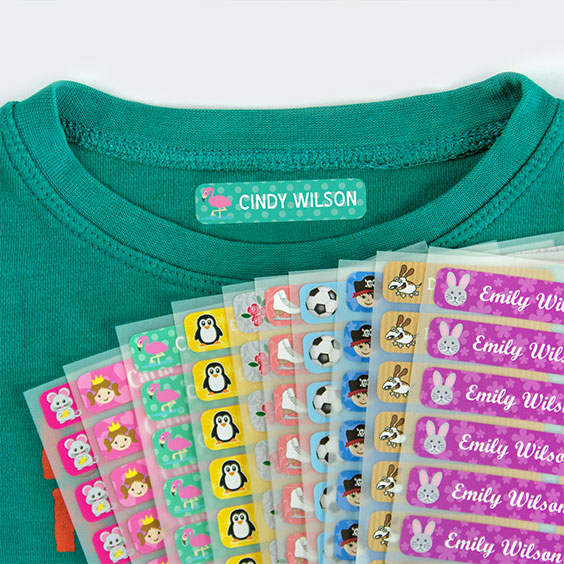 Name stickers for objects 
An awesome selection of big and small for various items – 36 minis, 24 small, 20 medium, 4 big – the minis are super convenient. Couldn't recommend them more, all I did was stick on and boom labelled no effort required.
They are also labels that stick out (in an obvious place when trying to recognize whose items are whose)
I love the idea of the stick on labels and I think for lunch boxes, pencil cases, anything that isn't going to go into the washing machine, I'd give it 10/10 for non clothing objects and 8/10 for clothes!
Shoe labels
The sweetest labels ever – in the shape of feet! With both name and number on it's great to identify if they go missing!
Size 50mm x24mm

Waterproof

UV, rub and sweat resistant

Washer safe

100% customisable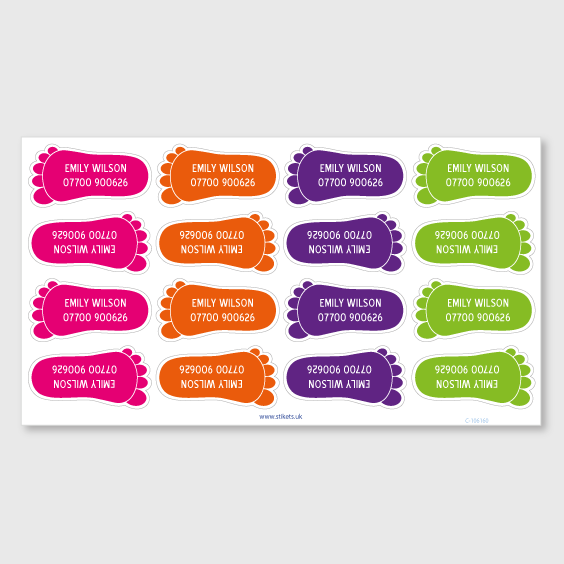 Be sure to put your child's name on especially coveted items in areas that cannot be easily removed or cut out (avoid the inside brand labels, if possible). The shoe labels I've put in both my children's shoes have been durable plus you can't see them unless you're looking for them.
Why Label your items
There are a number of reasons that clothes and other items need to be labeled from Nursery, to school, camp, being part of a sports team and you'd like to have all those new clothes and equipment you purchased come home with them! Then they get older and head to college and may to share a communal wash service or sleep overs or holidays where things can get lost.
Also seniors or someone with physical or emotional needs go to an assisted living facility and also Travelers, Businesses and professionals
Label items discreetly
Labeling jackets, backpacks or other items on the outside, with the child's name prominently visible, is okay when parents are accompanying children, it's not  always recommended to have obvious name labels in cases where a child may not always be under the constant watch of an adult. For example, when your child is old enough to walk home from school without a grown up, you do not want his or her name visible. In those cases, label their name discreetly on the inside. When doing so, however, be sure to label names in a place where people will actually look and see the information if it is left out and placed into lost and found areas.
Stikets Items Available
They have such a huge range it's unreal!
Label Packs Free Delivery! From 

£

17.95
Clothing Labels Free Delivery! From 

£

9.45
Name Stickers Free Delivery! From 

£

9.45
Shoe Labels Free Delivery! From 

£

9.95
Hanging Loops Free Delivery! From 

£

9.99
Luggage tags From 

£

1.95
Favour Stickers From 

£

10.95

Custom iron – on labels
They are made of anti-allergenic textile.
Kids bracelets From 

£

9.95
Adult Bracelets From 

£

9.95
Upload your design and turn it into personalised stickers in no time! The fastest and easiest way to get your 100% personalised stickers.
Custom Stickers 

£

9.90
Cool stickers From 

£

1.95
Stikets iron on patches for kids are perfect for decorating clothes or fixing knee holes. Made of highly resistant material, they are ironed-on and are resistant to the most intrepid kids. You can apply them on trousers as knee patches or in any other part of the garment. Thanks to their fun shape, they are perfect both for fixing and customising any garment.
Embroidered Patches From 

£

2.95

Patches for clothes from £1.95
Children's vinyl wall decals and Stikets blackboard wall stickers are the most creative way to give a special touch to children's bedrooms and nurseries. Place these fantastic wall decals on any smooth surface: walls, ceilings, doors, cabinets etc.
Wall Stickers for Kids From 

£

13.95
Blackboard Wall Stickers From 

£

16.95
Decorative Wall Stickers From 

£

16.95
Growth Charts From 

£

27.95
Photo Stickers From 

£

1.95
Chalk Markers From 

£

3.95
There's nothing like seeing the smile of those you love most when they unwrap a gift designed just for them. Stikets gifts are perfect to celebrate special occasions. You will be surprised at how easy it is to customise your products with Stikets.
Gift Labels From 

£

3.95
Custom Canvas Prints From 

£

19.95

Christmas From £3.95
At Stikets they make the labels or stickers you need, for your company, organization or family. Choose between labels to iron on clothes and personalized vinyl stickers to stick them on any surface.
Custom iron-on labels Free shipping From £12.90

Custom Stickers Free shipping From £12.90
The Cost
Costs which have been shown above I think are reasonable for the quality and the quick, secure delivery.
Information on receiving your order is here.
Overall thoughts
Fantastic quality and customer care I definitely recommend – I've featured a few times on my Instagram page and my stories too PLUS they kindly did a Giveaway with me for my followers. This commitment to quality is amazing and they work to reach all company levels, such as customer service and delivery.
The Name Stickers are designed to identify all of your stuff wherever and whenever – my children have been using them for their lunch boxes, school clothes, school bags, shoes and even pencil cases!  The all purpose labels are dishwasher safe, tumble dryer proof and weatherproof which are also great so I can shove in the dishwasher without concern of them peeling off but as my daughter does camping they are great for her travels too and can withstand wear and tear.
All their labels to mark children's items (or adults) and the rest of their personalized products are made with all the necessary guarantees to offer the best results and maximum durability.
Stikets iron on labels, ID bracelets and personalized wall decals for kids have passed the definitive test: children. I was able to choose names and style for each of my children which is super handy as not all children (if any) want the same thing.
Identify all of your children's clothes and materials for school or Nursery and as the Iron on Name Labels are thermally-adhesive and extremely resistant to the washer and dryer.
Disclaimer: I was sent these for purpose for review but all thoughts are my own, any images used have the original site address on them.
At Stikets they are constantly innovating to provide new products with the best features to cater to families' needs. Their Website is constantly changing and improving to guarantee the best usability.

Stikets they want the process to be easy, fast and fun: from the personalization of the product to the reception of the order or the after-sales service.