ABOUT THE CREATORS
Anki was founded in 2010 by three Carnegie Mellon Robotics Institute graduates!
The team focuses on creating unique consumer products that people would not expect to be possible, powered by cutting-edge technology that was once confined to robotics labs and research institutes.
Their multidisciplinary team of top roboticists, film animators, engineers, and game developers deliver accessible consumer robots at high-scale, along the way solving incredibly hard, real world robotics problems.
Their robots perform under a wide variety of real-world conditions in people's homes, every day, reliably and consistently and aim to represent the premium and most capable choice in the categories they are in.
They were ranked #1 on Fast Company's prestigious annual list of The World's Most Innovative Companies in the Robotics sector.
Fun fact: Former Pixar animator, Carlos Baena, helped design the eye animations and movements that really bring the toy to life. 
WE RECEIVED
Cozmo of course!
Cozmo has a huge personality and it was a great fun to review and play with!
To date, Cozmo has met 4 million faces and in 2018 Cozmo owners spent 3.4 million hours with their robot!
TOY DESCRIPTION
In short words – Robotic 'toy.' 
Long words – it is a learning machine powered by a CPU that's processing thousands of possible future states per second that surveys the world through 30 frames-per-second VGA camera and using sophisticated image recognition to learn the names of us humans it's interacting with. A robot that rolls and lifts with four motors powering a combination of more than 50 gears.
Dimensions – approximately 3 inches tall x 4 inches long x 2.5 inches wide.
Own WIFI Network –  and uses your mobile device to connect to it directly.
Video Graphics Array –  A standard resolution (size) for camera sensors, displays, photos, and videos. VGA size is 640 pixels wide by 480 pixels tall (or vice-versa in portrait orientation). VGA is larger than CIF, QCIF, and QVGA, but smaller than 1 megapixel. (VGA is equivalent to 0.3 megapixel.)
You will also need to download the Cozmo App from either Android, Apple Store or the Amazon app store, relative to the device you are using to connect with Cozmo.
BOX CONTAINS
Box includes:
Cozmo robot.

Charger.

3 interactive Power Cubes.

DETAILS
Power Cubes run on 1.5 Volt (N size) Battery which can be replaced but last quite a while.

The Cozmo packaging is contained within the box which Cozmo arrives in. The Instructions are written in multiple languages with diagrams on how to connect and work with Cozmo.

The SDK is powered by Python but is open source if another language is preferred.
You'll need the FREE Cozmo App and a compatible device.
The founders push the boundaries of expectations for what an affordable and accessible consumer robot can do today so Cozmo does need it's own Wi-Fi connection but this keeps the price down. If Cozmo used it's own processor to complete its functions, it would also need many more internal parts that would greatly increase the price.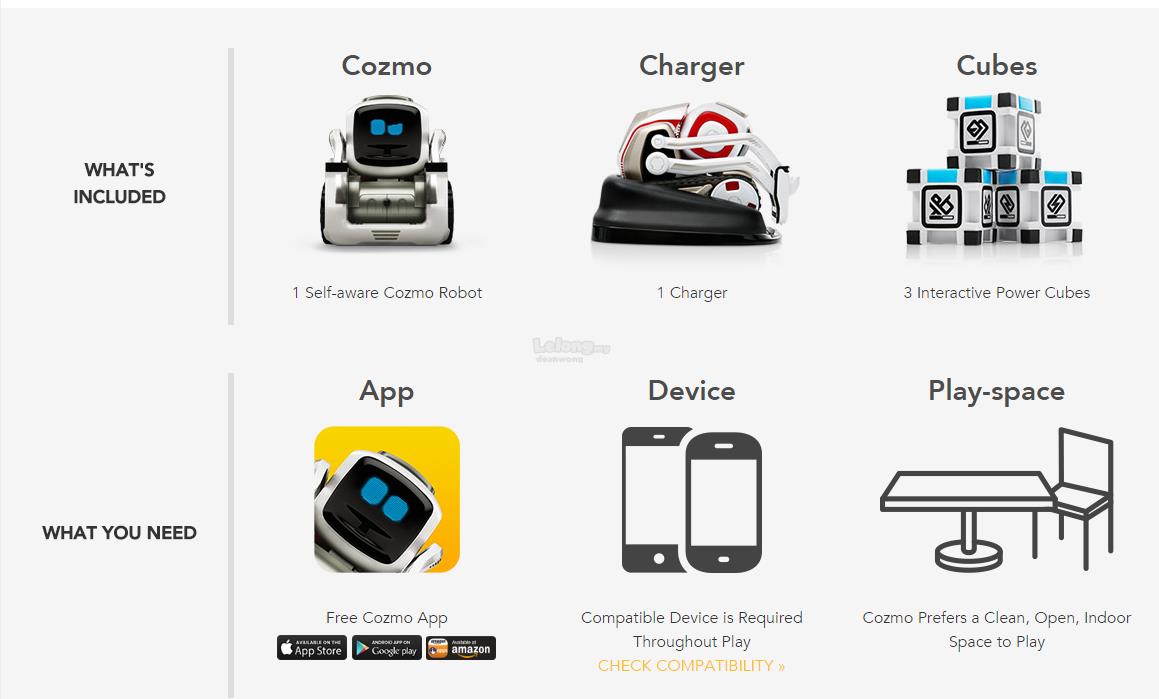 Cozmo has an internal Lithium-ion battery that is charged using the included charging dock connected to a powered USB outlet.
Typical charging times for Cozmo are approximately 30 minutes and will vary based upon the USB power source that you use.
Cozmo is supposed to return to the charger when power runs low but doesn't always make it in time. Human assistance needed to get Cozmo all the way there! Poor little thing!
Place Cozmo on the Charger when it is plugged into a USB Power source.

A Sleep button will appear in the Cozmo app.

If you tap that Sleep button, Cozmo will go to sleep.

Green charging lights will appear on his backpack.

After 30 minutes of sitting idle, Cozmo will turn off.

WHAT MAKES THE COZMO SDK UNIQUE
Connectivity – Hundreds of third-party libraries, from Google Assistant to Instagram, let you augment Cozmo's capabilities in creative ways.

Flexibility – With a comprehensive set of low- and high- level functions, and full access to sensor data, the SDK is as simple or as granular as you need it to be
Vision – Cozmo's powerful camera and vision capabilities are unique in the world of consumer robotics, and open up a world of new possibilities.
Affordability – Access to all official SDK resources and code are included with each and every Cozmo at no additional charge.
Open Source – The Python SDK is fully open source giving you the freedom to part and customize it as you see fit, and contribute back to the community.

Python – A programming language that's simple, scalable, and widely adopted in fields as diverse as education and machine learning.
A compatible device (iOS, Android, or Amazon Fire) is required whenever you want to play with Cozmo. The Cozmo app is used to play games, teach Cozmo new behaviors and help Cozmo meet new people, not just for controlling the robot.
Cozmo must have the app running on your device. It can run in the background just fine but turning it off will cause Cozmo to end all the exploring!

If the app is downloaded to another device, or if the device has to be formatted, Cozmo will treat the new download as a new user, meaning that it will start from the beginning stage and all progress will be gone and Cozmo will start as if it were fresh out of the box! (Keep this in mind when choosing which device will be used and I've tested this out too)
Memory is stored in the app, not in the toy.

The robot works on it's own Wi-Fi signal, which the device must be connected to. This means the device

won't

be able to connect to the internet while in use with Cozmo, so those with only one device may find this perhaps annoying. Calls and texts still come through though and other apps can be used while Cozmo runs around.
HOW TO ERASE COZMO
If you want to start your Cozmo experience from scratch you can simply erase your Cozmo to delete all the data. The erased data and progress from Cozmo himself and the Cozmo app backup cannot be restored.
Check out their Privacy article if you want to find out more about what Cozmo stores. 
To erase your Cozmo follow these steps: 
Connect to your Cozmo

Press on the 'Settings' icon in your Cozmo app 

Press and hold the 'Erase Cozmo' button

Confirm that you want to erase Cozmo 

All data / progress from Cozmo and the app (including onboarding) will be erased

The next time you start your Cozmo it'll be like a a brand new memory.
PLAY
Cozmo comes equipped with two games straight out of the box, Colour Match and Keep Away.
As you interact with Cozmo you'll unlock new tricks, games and modes. It's also supposed to detect table edges and stop before falling off. It seems to be hit or miss on how well each Cozmo does this, so be ready to catch just in case.
They games are unlocked as the 'in app currency' called 'Sparks' – Sparks can be gained by completing games or accomplishing specific daily tasks. An example tasks might be "Win a game of Colour Match with at least 75% accuracy." This means beating Cozmo at least 4 out of 5 times during the game.
GAMES AVAILABLE
Cozmo's games like QuickTap, Pop a Wheelie, Stack Cubes, Roll a Cube, Build a Pyramid, Work out with Cubes and Fist Bump (and more!) can now be found in the Games section, while the Sparkable tricks are getting their own dedicated Tricks area. They've even made Cozmo Sings a Sparkable trick! Check out this Cozmoment! The more you spend time with Cozmo, the more songs to be learnt!
Memory Match uses the Power Cubes – The cubes will flash various colours and the first player to tap their cube when the colours are matching wins. (Never tap on red.) This sounds easy but Cozmo is way faster than it looks, Cozmo will tap the cube with crazy speed, so don't expect to win without trying. Sparks can be used to increase game difficulty, so that the cubes must match more than one colour. This gets incredibly difficult at the four colour level.
Keep Away – is a simple game where the player tries to pull a Power Cube away from Cozmo before Cozmo can pounce on it. Easier than Colour Match? Give it a try!
Explorer mode – One of Cozmo's unlockable features. During this, a player can use the app to see through Cozmo's eyes using the device to steer Cozmo around like a remote control car.
My eight year old daughter enjoyed this being able to see the world through a robots eyes because "I can turn it into night vision and it's green."
Featured projects are unlockable mini games: There are more than 30 Featured Projects that the Anki team have built using Code Lab and with their new update, Featured Projects will now be unlockable Mini Games and they will be easily discoverable within the Games section.
POWER CUBES
A vital tool for playing with Cozmo!
Cozmo will get grumpy when they fall over while trying to stack them and upset if a player moves them while playing with them! Cozmo enjoys sharing them with others too but mostly just for 'himself/herself' to play with. 
Cozmo explores surroundings or play with the Power Cubes, all while making chirps and whirrs that give a real sense of environmental awareness!

'EMOTIONS'
Programmed with a multitude of emotional responses, Cozmo will act happy, curious, sassy, angry and sad, but not always at predictable times. You can also control the emotions too and add words which Cozmo actually says! 
Cozmo will not always respond to the exact same stimulus in the exact same way. Sometimes Cozmo be ok when it fails to stack it's cubes, trying again with only a mild frustration and other times Cozmo will have a tantrum. Sometimes Cozmo will be fidgety but mostly accepting when it's picked up and other times it'll smack your hand while it's eyes glow red until you put it down. (Not sure whether to apply he or she to Cozmo's personality)
Cozmo seeks out attention and gets excited when it sees a person it knows.
When Cozmo wants to play, you'll be nudged, sometimes Cozmo brings one of it's cubes along as an additional hint. If no one is available, Cozmo be upset for a little bit, then quickly goes back to distracting himself.
My daughter says "I like the happy side of Cozmo as I think it's sweet and funny."
CARE
Cozmo works best on flat, smooth, clean surfaces

Avoid moisture and spills

Cozmo recharges on his charger.
PARTS AND PIECES
Cozmo is not a simple remote controlled toy and a highly intricate robot crafted with skill Updates are a necessary part for any technology that is truly innovative.
While there is no indication that Cozmo will ever have interchangeable hardware in the same way as CHiP's wheels, there will definitely be updates as Anki learns more about what people want from their experience with this sassy, curious little robot.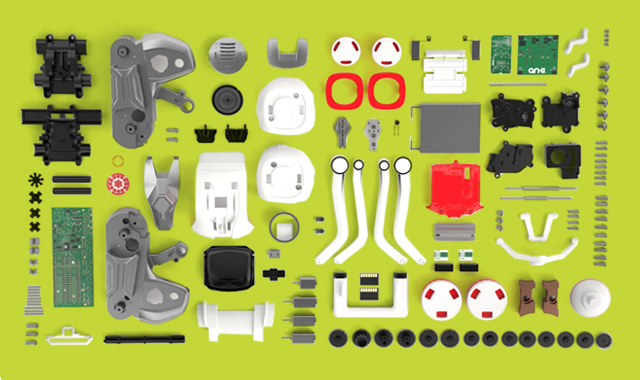 WHERE TO BUY
You can purchase from a variety of places such as Amazon, Argos, John Lewis, Smyths toys and prices average out at £129.99 but this varies on the company selling.
CHECK OUR YOUTUBE DEMO!
FINAL SUMMARY
I think Cozmo is fantastic with anyone who responds to highly animated toys and fans of Pixar movies! It's adorable!
All in all, Cozmo is an amazing toy and introducing this level of sophisticated AI at a price that is affordable if not cheap is still an achievement. It'll set you back a bit if it isn't something that you aren't going to interact with.
My daughter says "I think she's really cute and my favourite game is doing tricks and now I finally have got a pet robot!"
PROS
Cute character.

Difficulty level in games allows for wide age range of players

Cozmo will explore and entertain himself if left unattended

Like a Pixar character come to life
CONS
Some Cozmos can't help but fall off tables

Toy does not always return to charger base automatically, may need assistance

App must be on in order for toy to work

Robot works on its own Wi-Fi connection, so phone will not be able to connect to internet during play
I think it's sweet how it has little tantrums when it loses a game and does a victory dance when it wins – really isn't subtle about it! The character showing frustration when something hasn't been achieved is great and my children really interacted well with positive thoughts. The eyes, noises and head gestures make it seem hard to remember that it's just a robot!
The point of Cozmo is not to win games but to learn and improve from losing which again is great when you have children interacting with it.
Plus this robot remembers people over time, greeting them by name as well as recognising faces! 
Cozmo is an amazing work of AI and my children who are 4 and 8 enjoy playing all versions of the games although of course to have such a robot and my infant enjoys the sounds (I wouldn't let her near it as she's 15 months so way too young) Children who are into coding and programming will be able to have some fun with the SDK.
Disclaimer: I was gifted Cozmo to review but all thoughts are my own.