Even if you aren't religious simple activities to do to teach children about different cultures and religions!
1. 

Carrot Footprints

They won't be little forever (sob) but you can preserve the memory of their tiny feet in this simple and cute craft.

You'll just need: painted footprints, background paper, paper plate, marker, adhesive, and embellishments.

Optional: cellotape. 

Then all you need to do is paint the feet (or hands) and stick onto the paper plate and be prepared for mess!
2. 
Salt Dough Eggs
A classic I think we've all made!
The egg ornaments on this Easter tree come together with basics from your pantry. Let the kids get creative during the decorating process with bold patterns and bright colors.
For the eggs: (Makes 10 eggs, this recipe is easily multiplied)
1 cup flour, plus a little more for rolling out the dough

1/4 cup salt

1/4 -1/2 cup water, or as needed.
Other supplies:
Egg shaped cookie cutter (We couldn't find one, so we just bent a round one into an oval egg shape!)

Toothpick

Any other decoration tools, such as glitter, that you might want to use (optional)

Clear nail polish/shellac (also optional, but this gives a more finished look and seals in the paint for longer use)

Twine, string, or whatever you want to hang your ornaments with!

Acrylic or tempera paint.
Directions: 
Make the dough and cut out the eggs.

Preheat the oven to 350 degrees. In a large bowl, combine the flour and salt and mix well. Gradually add the water and mix until it has a putty-like consistency.
Knead the dough for about 5 minutes, until it is smooth and well-combined. Roll the dough to about 1/4 inch in thickness on a lightly floured surface.
Cut out the eggs and place on an ungreased cookie sheet.
Make a hanging hole.
Using a toothpick, make a hole at the top of the egg, twisting to make sure the hole stays large enough for string or ribbon to go through.
Bake the eggs.
Place the eggs in the preheated oven and bake until firm, about 30 minutes to an hour, depending on the size of your eggs. There are several methods for baking these eggs, including letting them cook for several hours at lower temperatures and even letting them dry out naturally for 48 hours on a countertop. This baking method allows for quicker gratification for kids and works fine as long as you are painting the eggs — since parts of the ornament may brown slightly.
Remove the eggs from the oven and let them cool.
Paint and decorate the eggs.
Once the eggs are cooled, decorate with paint just let dry, then add nail polish or shellac if you fancy.
Finishing touches: Feed string, twine, or pipe cleaners through the hanging hole and tie a loop and a knot.
Hang them on an Easter tree or outside! You can have the kids help forage for branches, add some faux flowers, and decorate egg ornaments together for a cute and easy Easter tree.
4. Bunny Party Hats
Celebrate the arrival of Easter with a huge party! All the kids can wear these easy-to-make bunny rabbit party hats.
Materials:
cardstock in various pastel shades

scissors

permanent marker

glue dots

craft knife

twine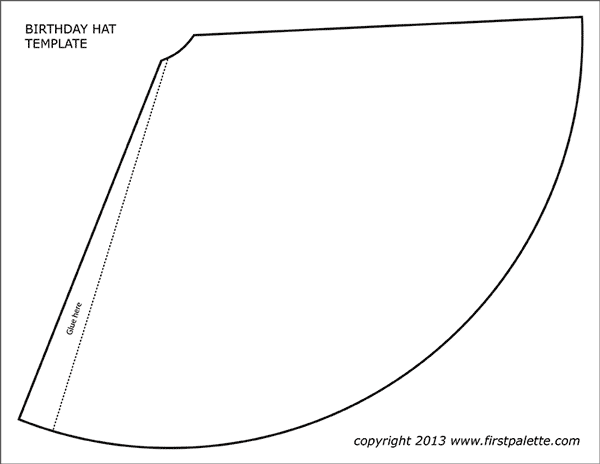 Step 1: Make the party hats with this template. Any classic party hat template will do.
Step 2: Cut out eyes and noses for the bunny with simple circles and triangles and long thin pieces for the whiskers.
Step 3: Attach the eyes and nose with glue dots.
Step 4: Draw in a simple mouth with your permanent marker.
Step 5: Cut slits in the side of the hat with your craft knife.
Step 6: Cut out ears and fold at the bottom about ¼" up.
Step 7: Insert the ears and secure with tape inside.
Step 8: Attach twine to the sides of the inside of the hat to tie around the head. Secure with tape.
Found some more templates from this site on google.
5. 

 Painted Egg Cartons

For adorable and affordable gift boxes, decorate your leftover egg cartons and then fill them with treats.
6. Easter table decorations
This fun  craft is super easy for kids to assemble plus, they serve as sweet springtime decor when they're finished – just check out Hobby Craft for all the cool stuff you can get! You can literally make your table into a magical place!
7. Paper Plate Bunny
Transform your paper plate into the ultimate Easter bunny craft. Don't forget to add a pink pom-pom nose!
8. 

Popsicle Stick Chick-chicks

Easy peasy lemon squeezy – we've made them at craft groups.

These yellow chicks are the perfect spring touch for your home – you can even draw round little hands and colour them in for wings.

Materials Needed:
5 mini popsicle sticks

Cardboard piece

Scissors/Glue

Googly eyes

Orange and yellow paper

Yellow paint (or just be creative!)
Step 1: Start by gluing 5 mini popsicle sticks onto a piece of cardboard (we used a cereal box, not pictured).
Step 2: After it dries, have the kids paint it yellow. Cut out some feet, beaks, and wings with the paper.
Step 3: When the yellow paint is dry, glue on all the pieces! 
9.
Biscuit Houses
Why wait until Christmas to make houses?!
Kids will love either making houses featuring everyone's favourite Easter treats like smarties, jelly babies and chocolate bunnies – you can use pre-done ginger bread house kits or using Bahlsen Biscuits and simply using icing sugar to attach it all together.
10. Tin Foil Easter Egg
A simple project like this one can easily become a wonderful Easter masterpiece – all you need to do is wrap tinfoil around cardboard and use a pen to etch designs.
11. Easter wreaths.
This egg-cellent take on a spring wreath will brighten anyone's day! Literally a million ways to do it, such as, cutting cardboard and decorating, cutting a hole in a paper plate and can decorate with tissue paper, chocolate treats, pom poms, sparkles, ribbons, flowers etc!
How to make:
Cut 1⁄4" and 3/8" thick strips of colourful tissue paper.
Use glue stick to adhere thinner strips to smaller Styrofoam eggs and thicker strips to larger eggs.

Wrap tissue paper around egg lengthwise, then apply second strip horizontally. Continue attaching until the egg is completely covered.

Arrange faux leaves and eggs around wreath form and hot glue into place. Secure eggs to each other with hot glue where necessary.

Once assembled, glue a few more sprigs in between eggs for an extra plush look.
11. Easter themed painted Rocks.
It all started with a single stone on a beach in Cape Cod and now spans the globe. The Kindness Rocks Project, founded by Megan Murphy, is based on the profound truth that one message at the right moment can change someone's day, their outlook, and, indeed, their whole life.
The messages on these thoughtful pebbles take many forms: gratitude, affirmations, encouragement, and offers of hope—all signposts along the way for someone to find at exactly the right time and you can do an Easter theme check our vlog!
12. Easter baking!
A no brainer – you can get cornflakes, melt some chocolate on and add little chocolate eggs, get easter theme chocolate lolly moulds or make fresh buns from any recipe online or packet mix and boom activity and treat!
14. Easter garden – fake or real
You can whip this up with supplies already lying around the house such as mud or a fake one use fake grass – my children have made these a few times and always look super pretty.
An Easter garden is more than just a pretty centre piece for your Easter though as it's a way to help teach children about Jesus and how he died for 'us' and rose into Heaven- my son made one which is currently displayed with everyone else's gardens – ours was a last minute one and we used painted rocks and glitter but ones we've made in the past we used alsorts!
For your own garden you will need:
A tray

Soil

A large stone

String

Grass seeds or moss

Small stones

A piece of small white cloth

A small flower pot

6 sticks to make into 3 crosses
Step 1: Place your flower pot on its side on the tray (this will be tomb) and cover half the tray (including over the side of the flower pot) with soil, this will make a hill side.  On the other half put your small stones.
Step 2: If you are doing this with a couple of weeks before Easter you could always plant some grass seeds in the soil and watch them grow! But you can cut up your own grass to cover the soil (I have fake grass so can't do this!)
Step 3: With your sticks (or use lollipop sticks!)use them to make three crosses and secure them with bits of string. Stick them into the top of the 'hill', if you have one cross that is bigger than the others, place it in the centre of the three crosses to represent the cross which Jesus was crucified on.
Step 4: Finally with the piece of white cloth, fold it up and put it in the tomb and place the large stone in front of the entrance to the tomb.
On Easter Sunday roll the stone away to show that Jesus has risen – if this isn't your belief it's still fun to do!
15. Face painting!
You can create cool chick designs, make your face an egg and more! Check out this vlog using Little Brian Art Face Paint set creating cool animals designs the kids and I did.
For more ideas what to do you could d0 check out google for a tonne of tips and for days out for the holidays you could Visit a Farm or local Aquarium!
---
Meaning of Easter
The meaning of Easter symbolizes the complete verification of all that Jesus preached and taught during His three-year ministry.
If He had not risen from the dead, if He had merely died and not been resurrected, He would have been considered just another teacher or Rabbi. however, His resurrection changed all that and gave final and irrefutable proof that He was really the Son of God and that He had conquered death once and for all. Please note all links are added from sources within the text.
The meaning of Easter is Jesus Christ's victory over death.
His resurrection symbolizes the eternal life that is granted to all who believe but Easter didn't always symbolize Christ's resurrection from the dead and the meaning of Easter was different than what Christians celebrate today!
The feast day of Easter was originally a pagan celebration of renewal and rebirth. Celebrated in the early spring, it honored the pagan Saxon goddess Easter. When the early missionaries converted the Saxons to Christianity, the holiday, since it fell around the same time as the traditional memorial of Christ's resurrection from the dead, was merged with the pagan celebration, and became know as Easter.
The meaning of Easter was also changed to reflect its new Christian orientation. 
Today, the meaning of Easter, for million of Christians, is that of honoring and recognizing Jesus Christ's resurrection from the dead.
Why do we Eat chocolate eggs?
Dyed Easter eggs have been a symbol strongly associated with the holiday for many years.
The practice of dying eggs dates all the way back to the early days of the faith in Mesopotamia.
Christian Mesopotamians had the custom of staining their eggs in red dye as a symbol of the blood shed by Christ on the cross.
Some also believe that the cracking of an egg is symbolic of the empty tomb of Jesus after his resurrection.
From the 17th century onward, there was an increasing recognition of childhood as as time of life that should be joyous, not simply as preparatory for adulthood. This "discovery of childhood" and the doting upon children had profound effects on how Easter was celebrated.
It is at this point in the holiday's development that Easter eggs and the Easter bunny become especially important. Decorated eggs had been part of the Easter festival at least since medieval times, given the obvious symbolism of new life. A vast amount of folklore surrounds Easter eggs, and in a number of Eastern European countries, the process of decorating them is extremely elaborate. Several Eastern European legends describe eggs turning red (a favorite colour for Easter eggs) in connection with the events surrounding Jesus' death and resurrection.
Yet it was only in the 17th century that a German tradition of an 'Easter hare' bringing eggs to good children came to be known. Hares and rabbits had a long association with spring seasonal rituals because of their amazing powers of fertility.
When German immigrants settled in Pennsylvania in the 18th and 19th centuries, they brought this tradition with them. The wild hare also became supplanted by the more docile and domestic rabbit, in another indication of how the focus moved toward children.
As Christians celebrate the festival this spring in commemoration of Jesus' resurrection, the familiar sights of the Easter bunny and Easter eggs serve as a reminder of the holiday's very ancient origins outside of the Christian tradition.
Happy Easter!!