FOR YOUNGER KIDS
Super Monsters Save Halloween (2018)
For the littlest Halloween fans, Netflix offers this Super Monstershalf-hourspecial, which actively shows preschoolers how the holiday's scares are mostly make-believe. The characters explain the tricks behind haunted houses and spooky decorations so they don't seem quite so horrifying anymore. A follow-up, Super Monsters: Vida's First Halloween, is scheduled for October 4.
Ages: 4+
Pooh's Heffalump Halloween Movie (2005)
Tag along with Pooh's pal Lumpy, who's trick-or-treating for the first time. Just beware of the scary Gobloon, who turns anyone he catches into a Jaggedy Lantern.
Ages: 3+
Room on the Broom (2013)
This short film, an adaptation of the book by Julia Donaldson, stars a witch, but she's by no means scary: She's quick with a smile and a laugh, and kind to the animals who all ask her for a ride. This one's so good, it was nominated for an Academy Award for Best Animated Short Film.
Ages: 3+
Curious George: A Halloween Boo Fest (2013)
Everyone's favorite cartoon monkey heads to a Halloween festival in this movie, where he tries to find a rumored hat-stealing scarecrow, attempts to make the perfect costume, and tries to find a pumpkin to bring home — pretty gentle all-around.
Ages: 3+
Monsters vs. Aliens: Mutant Pumpkins from Outer Space
Aliens: Mutant Pumpkins from Outer Space is a 2009 Halloween television special, based on the film Monsters vs. Aliens. It was produced by DreamWorks Animation and directed by Peter Ramsey. The special premiered … Scared Shrekless. It got its Blu-ray release on August 28, 2012, as a part of Shrek's Spooky Stories.
Agea 4+
FOR OLDER KIDS
Wallace & Gromit: The Curse of the Were-Rabbit (2005)
This scary-but-not-too-scary movie follows the deligthfully British Wallace and Gromit as they try to figure out what's been destroying a town's vegetable gardens. It turns out to be a monster, but not one that you'd expect — it's a were-rabbit, transforming from a bunny to beast.
Ages: 5+
Goosebumps (2015)
Jack Black returns again, this time as R.L. Stine for a movie based on Stine's beloved scary-book series. The plot weaves in lots of details that parents remember from the books and turns them into a whole new story.
Ages: 9+
Toy Story of Terror (2014)
When Mr. Potato Head goes missing at a roadside motel, Andy and the rest of the toys go on a spooky and mysterious adventure to find their friend. This movie features all the warmth, humor, funny references, and gags you expect from the best Pixar films.
Ages: 6+
Paranorman (2012)
One thing we know for sure: stop-motion animation goes hand-in-hand with spooky scares This movie, from the makers of Coraline, follows the story of a boy who can communicate with the dead, and he uses the power to unravel a town-wide mystery.
Ages: 10+
Hotel Transylvania (2012)
There are three of these movies to choose from! Drama and hilarity ensues when a human discovers Dracula's faraway resort for monsters and other mythical creatures. The movie is from the POV of the monsters (drawn by beloved animator Genndy Tartakovsky), so they come across as the good guys. 
Ages: 7+
Dear Dracula (2012)
Dracula comes to a young monster fan's street, but he's played for laughs, not scares. Dracula thinks he's lost his touch, and he needs his new friend to help him get his mojo back — and, in the process, he teaches his fan to come out of his shell. It's more of a heartwarming buddy story than a Halloween haunt. The 45-minute short film is based on a graphic novel by Joshua Williamson.
Ages: 6+
Frankenweenie (2012)
This black-and-white, stop-motion movie from director Tim Burton is a clever twist on the classic Frankenstein story. Instead of a human subject, the young scientist in this movie animates a dog.
Ages: 9+
Coraline (2009)
This sinister movie adapted from the 2002 children's book shows kids that they should be careful what they wish for. The stop-motion animated film is about a young girl named Coraline who discovers an eerie secret about a parallel universe where an alternate version of her family tempts her with big promises. Of course, this seemingly better reality turns out to be more dangerous than expected.
Ages: 9+
The Haunted Mansion (2003)
Based on the popular Disneyland attraction, Eddie Murphy stars in this film as a real-estate agent who finds himself in a world of grim, grinning ghosts.
Ages: 10+
Don't Look Under The Bed (1999)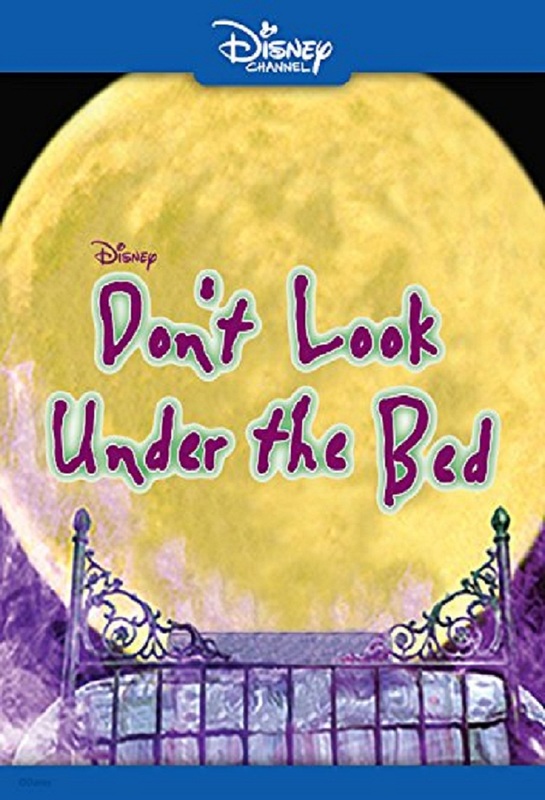 In this Disney Channel Original, a young girl is framed for the Boogeyman's pranks. Can she clear her name?
Ages: 8+
Casper (1995)
A childhood fave!
Christina Ricci – who was basically the It Girl of vintage ghoul movies as a kid – stars as Kathleen Harvey, the daughter of ghost therapist Dr. James Harvey. She's recruited by the friendliest ghost of all time to help him handle some unfinished business.
Ages: 7+
Monster House (2006)
This movie is about three friends who discover that their neighbor's house is a living, breathing monster and they have to figure out how to stop it before the neighborhood goes to hell.
Ages: 7+
Corpse Bride (2005)
This Oscar-nominated stop-motion movie follows a young man who accidentally married a ghost. If you couldn't already guess, the movie is directed by Tim Burton (again), and it's done in his trademark macabre style.
Ages: 9+
The Nightmare Before Christmas (1993)
Debate always rages about whether or not Tim Burton's groundbreaking stop-motion animated movie is a Halloween movie or a Christmas flick. The answer: Watch it every year from October through December.
Ages: 7+
Hocus Pocus (1993)
It's easy to see why this family flick has withstood the test of time — the central trio of witches is irresistibly charming. And, if your kids love it, you can get them the sequel novel, which follows Max and Allison's 17-year-old daughter, Poppy.
Ages: PG 8+
The Addams Family (1991)
Featuring an all-star cast that includes Anjelica Huston, Raul Julia, Christopher Lloyd, and Christina Ricci, this film update of the iconic TV show exceeds all expectations. Your kids will probably love Cousin It just as much as we do. Once they get hooked, show them The Addams Family Values at Thanksgiving.
Ages: 9+
The Witches (1990)
Angelica Houston gives a the most hair-raising performance as the Grand High Witch in this Roald Dahl adaptation. Some seriously spooky witch makeup makes for some delightfully gruesome scenes.
Ages: 9+
Beetlejuice (1988)
A movie that makes the living seem like villains and the recently deceased the heroes, Beetlejuice is about a pair of ghosts who want to scare away the family that moved into their house after their death. Another Tim Burton masterpiece, it has best-of-career performances from an A-list cast that includes Michael Keaton, Geena Davis, Alec Baldwin, and Winona Ryder.
Ages: 12+
Ghostbusters (1988)
When you want to watch a movie with your fam that's as heavy on the laughs as it is on the scares, who you gonna call? Follow up a viewing of the classic with the all-female reboot that stars comedic powerhouses Kristen Wiig and Melissa McCarthy.
Ages: 10+
Labyrinth (1986)
A sneaky way to turn your kids into David Bowie fans, Labyrinth tells the story of a girl who accidentally wishes her baby brother away. He gets sent to the realm of the Goblin King (Bowie), and she has to save him before time runs out and he becomes one of the king's minions forever. Jim Henson's company fills out the Goblin King's world with amazing puppet creatures.
Ages: 8+
E.T. the Extra Terrestrial (1982)
You may remember this movie as more sweet than scary, because of young Elliott's connection to the expressive alien. But there's lots of peril that comes for E.T., and if you're looking for thrills that don't necessarily have ghosts or ghouls, Steven Spielberg's classic could be a suspenseful pick for an intense family movie night.
Ages: 7+
The House With a Clock in Its Walls (2018)
Based on the YA novel by John Bellairs, this movie follows the story of a young orphan sent to live with his eccentric uncle — only to be pulled into a world of witches, warlocks, and ancient rivalries. Jack Black and Cate Blanchett ham it up as the boy's two magical guardians.
Ages: 9+
Monster Family (2017)
Dracula's spell turns a woman and her loved ones into a vampire, a mummy, a werewolf and Frankenstein's monster. 1 hour 36
Ages 5+
Scooby-Doo (2002)
Cartoon or film really but for this lets just say the film made in 2002 – Two years after a clash of egos forced Mystery Inc. to close its doors, Scooby-Doo and his clever crime-solving cohorts Fred (Freddie Prinze Jr.), Daphne (Sarah Michelle Gellar), Shaggy (Matthew Lillard) and Velma (Linda Cardellini) are individually summoned to Spooky Island to investigate a series of paranormal incidents at the ultra-hip Spring Break hot spot.
Ages 5+
The Spiderwick Chronicles
Based on the bestselling book series by the same name, The Spiderwick Chronicles is a fantasy film about a young boy whose family moves into the strange old house of their peculiar great, great uncle. When inexplicable disappearances and accidents start to occur, kids Jared, Simon and Molly investigate why their uncle's house seems to be so cursed. This film may look like it is geared towards children, but we still advise you air on the cautious side before watching it with your little ones.
Ages 9+
Image credits goes to IMDB.