WORLD SUICIDE PREVENTION DAY 10th september .
Recognising symptoms or triggers can be hard to do but there are ways an means, I've linked some on this blog PLUS numbers to call both UK and International.
The number of people worldwide who die from suicide is declining but one person still kills themselves every 40 seconds, according to new figures from the World Health Organization (WHO), which said countries needed to do more to stop these preventable deaths!
"While 79% of the world's suicides occurred in low- and middle-income countries, high-income countries had the highest rate, at 11.5 per 100,000" people, WHO have said.
WHO said one way to bring down the global suicide rate would be to limit access to pesticides, which, along with hanging and firearms, are the most common method of suicide. For example, in Sri Lanka, a series of bans on highly hazardous pesticides led to a 70% decrease in suicides, saving an estimated 93,000 lives from 1995 and 2015. Similarly, in South Korea, a ban on the herbicide paraquat was followed by a 50% decrease in suicide deaths from pesticide poisoning from 2011-2013.
KEY FACTS
Close to 800 000 people die due to suicide every year.
For every suicide there are many more people who attempt suicide every year. A prior suicide attempt is the single most important risk factor for suicide in the general population.
Suicide is the second leading cause of death among 15-29 year-olds.
79% of global suicides occur in low- and middle-income countries.
Ingestion of pesticide, hanging and firearms are among the most common methods of suicide globally.
Every year close to 800 000 people take their own life and there are many more people who attempt suicide. Every suicide is a tragedy that affects families, communities and entire countries and has long-lasting effects on the people left behind. Suicide occurs throughout the lifespan and was the second leading cause of death among 15-29 year-olds globally in 2016.
You can learn more on the statistics via National Alliance on Mental Illnesses.
FIRSTLY, WHAT IS SUICIDE?
Suicide: is when people direct violence at themselves with the intent to end their lives, and they die because of their actions. It's best to avoid the use of terms like "committing suicide" or a "successful suicide" when referring to a death by suicide as these terms often carry negative connotations.
A suicide attempt: is when people harm themselves with the intent to end their lives, but they do not die because of their actions.
WHO IS AT RISK?
Suicide does not discriminate. People of all genders, ages, and ethnicities can be at risk.
Main risk factors for suicide are:
A prior suicide attempt

Depression and other mental health disorders

Substance abuse disorder

Being between the ages of 15 and 24 years or over age 60

Family history of a mental health or substance abuse disorder

Family history of suicide

Family violence, including physical or sexual abuse

Unable to express sexuality

Unable to express gender confusion

Being in prison or jail

Being exposed to others' suicidal behavior, such as a family member, peer, or media figure

Medical illness
WARNING SIGNS
Planning or looking for a way to kill themselves, such as searching online, stockpiling pills, or newly acquiring potentially lethal items (e.g., firearms, ropes)

Talking about great guilt or shame

Talking about feeling trapped or feeling that there are no solutions

Feeling unbearable pain, both physical or emotional

Talking about wanting to die or wanting to kill themselves

Acting anxious or agitated

Talking about feeling empty, hopeless, or having no reason to live

Changing eating and/or sleeping habits

Showing rage or talking about seeking revenge

Taking risks that could lead to death, such as reckless driving

Giving away important possessions

Saying goodbye to friends and family

Putting affairs in order, making a will

Talking or thinking about death often

Talking about being a burden to others

Using alcohol or drugs more often

Withdrawing from family and friends

Displaying extreme mood swings, suddenly changing from very sad to very calm or happy.
Most people who have the risk factors for suicide will not kill themselves. However, the risk for suicidal behavior is complex. Research suggests that people who attempt suicide may react to events, think, and make decisions differently than those who do not attempt suicide.
These differences happen more often if a person also has a disorder such as depression, substance abuse, anxiety, borderline personality disorder, and psychosis. Risk factors are important to keep in mind; however, someone who has warning signs of suicide may be in more danger and require immediate attention.
While there are many factors which can influence a person's decision to commit suicide, the most common one is that the person has severe depression. A person is feeling great emotional pain but isn't able to see any way to relieve that pain other than ending their own life.
Click here to read Suicide Myths.
WHAT TO DO IF YOU'RE WORRIED FOR SOMEONE
If you or someone you know has warning signs or symptoms of suicide, particularly if there is a change in the behavior or a new behavior, get help as soon as possible.
Asking someone about suicide is not harmful.
ASK QUESTIONS
The first step is to find out whether the person is in danger of acting on suicidal feelings. Be sensitive, but ask direct questions, such as:
How are you coping with what's been happening in your life?

Do you have access to weapons or things that can be used as weapons to harm yourself?

Are you thinking about dying?

Do you ever feel like just giving up?

Are you thinking about suicide?

Have you ever thought about suicide before, or tried to harm yourself before?

Have you thought about how or when you'd do it?

Are you thinking about hurting yourself?
Asking about suicidal thoughts or feelings won't push someone into doing something self-destructive. In fact, offering an opportunity to talk about feelings may reduce the risk of acting on suicidal feelings.
According to my research from World Health Organisation one person dies every 40 seconds due to suicide.
There is help out there for people it's just reaching out and talking about it.
I can understand why people do what they do. They feel they aren't good enough. They can't cope. The world is better off without them in it. That they don't deserve anything.
There is help. You. They. Aren't alone.
AS A FRIEND YOU CAN OFFER SUPPORT BY
If a friend or loved one is thinking about suicide, they need professional help, even if suicide isn't an immediate danger.
Offer to help the person take steps to get assistance and support – for example, you can research treatment options, make phone calls and review insurance benefit information, or even offer to go with the person to an appointment.
Be respectful and acknowledge the person's feelings – don't try to talk the person out of his or her feelings or express shock. Remember, even though someone who's suicidal isn't thinking logically, the emotions are real. Not respecting how the person feels can shut down communication.
Encourage the person to communicate with you – someone who's suicidal may be tempted to bottle up feelings because he or she feels ashamed, guilty or embarrassed. Be supportive and understanding, and express your opinions without placing blame. Listen attentively and avoid interrupting.
Don't be patronizing or judgmental –  don't say to someone, "Things could be worse" or "You have everything to live for." Instead, ask questions such as, "What's causing you to feel so bad?" "What would make you feel better?" or "How can I help?"
Never promise to keep someone's suicidal feelings a secret – try to be  understanding but explain that you may not be able to keep such a promise if you think the person's life is in danger as you may have to get help.
Offer reassurance that things can get better  – when someone is suicidal, it seems as if nothing will make things better. Reassure the person that with appropriate treatment, he or she can develop other ways to cope and can feel better about life again.
Encourage the person to avoid alcohol and drug use – using drugs or alcohol may seem to ease the painful feelings, but ultimately it makes things worse as it can lead to reckless behavior or feeling more depressed. If the person can't quit on their own, offer to help find treatment.
Remove potentially dangerous items from the person's home, if possible – make sure the person doesn't have items around that could be used for suicide, such as knives, razors, guns or drugs although this isn't always feasible especially if you have no access to their home or surroundings. If the person takes a medication that could be used for overdose, encourage him or her to have someone safeguard it and give it as prescribed.
TAKE IT SERIOUSLY
If someone says they are thinking of suicide or behaves in a way that makes you think the person may be suicidal, don't play it down or ignore the situation.
You may worry that you're overreacting, but the safety of your friend or loved one is most important. Don't worry about straining your relationship when someone's life is at stake.
You're not responsible for preventing someone from taking their own life, however, your intervention may help the person see that other options are available to stay safe and get treatment!
FOR IMMEDIATE HELP
If someone has attempted suicide:
Don't leave the person alone.

Call 999 (UK) or your local emergency number right away. Or, if you think you can do so safely, take the person to the nearest hospital yourself.

Try to find out they are under the influence of alcohol or drugs or may have taken an overdose.

Tell a family member or friend right away what's going on.
If a friend or loved one talks or behaves in a way that makes you believe they might attempt suicide, don't try to handle the situation alone:
Get help from a trained professional as quickly as possible. The person may need to be hospitalized until the suicidal crisis has passed.
Encourage the person to call a suicide hotline number/Crisis team.
UK ORGANISATIONS TO CALL
116 123 UK
Samaritans
Hours: 
24 hours, 7 days a week
HOPELINEUK is a confidential support and advice service for:
Children and Young People under the age of 35 who are experiencing thoughts of suicide

Anyone concerned that a young person could be thinking about suicide
If you're experiencing a mental health problem or supporting someone else, you can call SANEline on 0300 304 7000 (4.30pm–10.30pm every day).
If you're under 25, you can call The Mix on 0808 808 4994 (Sunday-Friday 2pm–11pm), request support by email using this form on The Mix website or use their crisis text messenger service.
If you're under 35 and struggling with suicidal feelings, or concerned about a young person who might be struggling, you can call Papyrus HOPELINEUK on 0800 068 4141 (weekdays 10am-10pm, weekends 2pm-10pm and bank holidays 2pm–10pm), email pat@papyrus-uk.org or text 07786 209 697.
If you identify as male, you can call the Campaign Against Living Miserably (CALM) on 0800 58 58 58 (5pm–midnight every day) or use their webchat service.
If you're a student, you can look on the Nightline website to see if your university or college offers a night-time listening service. Nightline phone operators are all students too.
If you identify as gay, lesbian, bisexual or transgender, you can call Switchboard on 0300 330 0630 (10am–10pm every day), email chris@switchboard.lgbt or use their webchat service. Phone operators all identify as LGBT+.
If you live in Wales, you can call the Community Advice and Listening Line (C.A.L.L). on 0800 132 737 (open 24/7) or you can text 'help' followed by a question to 81066.
For more options, visit the Helplines Partnership website for a directory of UK helplines. Mind's Infoline can also help you find services that can support you. If you're outside the UK, befrienders.org lists emotional support helplines around the world.
LIST OF INTERNATIONAL SUICIDE HOTLINES
Argentina: +5402234930430
Australia: 131114
Austria: 142; for children and young people, 147
Belgium: 106
Bosnia & Herzegovina: 080 05 03 05
Botswana: 3911270
Brazil: 188 for the CVV National Association
Canada: 1.833.456.4566, 5147234000 (Montreal); 18662773553 (outside Montreal)
Croatia: 014833888
Denmark: +4570201201
Egypt: 7621602
Estonia: 3726558088; in Russian 3726555688
Finland: 010 195 202
France: 0145394000
Germany: 08001810771
Holland: 09000767
Hong Kong: +852 2382 0000
Hungary: 116123
India: 8888817666
Ireland: +4408457909090
Italy: 800860022
Japan: +810352869090
Mexico: 5255102550
New Zealand: 0800543354
Norway: +4781533300
Philippines: 028969191
Poland: 5270000
Portugal: 21 854 07 40/8 . 96 898 21 50
Russia: 0078202577577
Spain: 914590050
South Africa: 0514445691
Sweden: 46317112400
Switzerland: 143
United Kingdom: 08457909090
USA: 18002738255
Veterans' Crisis Line: 1 800 273 8255/ text 838255
For more numbers Click here for more 
IF YOU CAN'T TALK ON THE PHONE
As well as phone numbers to call, some organisations routinely offer support in other ways – which could include emails, text messages or web chat. Or you might need to make a specific request:
If you have difficulty hearing or speaking, it might help to use the Next Generation Text Service (NGTS) Typetalk/Text Relay app on a mobile device or computer.
If you need a translator or British Sign Language (BSL) interpreter, you could ask the organisation if they provide a translation service and if it costs anything to use.
Some organisations are required to make reasonable adjustments for people with disabilities, which could include providing other forms of communication. (See this page on MInd.org what are services and public functions? and also guide to discrimination in everyday life for more information).
BEN support for life Mental health support services
HELP VIA SOCIAL MEDIA
Each offers different options on how to respond if you see concerning posts about suicide. For example:
Facebook Suicide Prevention webpage can be found at www.facebook.com/help/594991777257121/ [use the search term "suicide" or "suicide prevention"
Instagram uses automated tools in the app to provide resources, which can also be found online athttps://help.instagram.com [use the search term, "suicide," self-injury," or "suicide prevention"
Snapchat's Support provides guidance at https://support.snapchat.com [use the search term, "suicide" or "suicide prevention"
YouTube's Safety Center webpage can be found HERE.
Tumblr Counseling and Prevention Resources webpage can be found at https://tumblr.zendesk.com [use the search term "counseling" or "prevention," then click on "Counseling and prevention resources"
Twitter's Best Practices in Dealing With Self-Harm and Suicide athttps://support.twitter.com [use the search term "suicide," "self-harm," or "suicide prevention."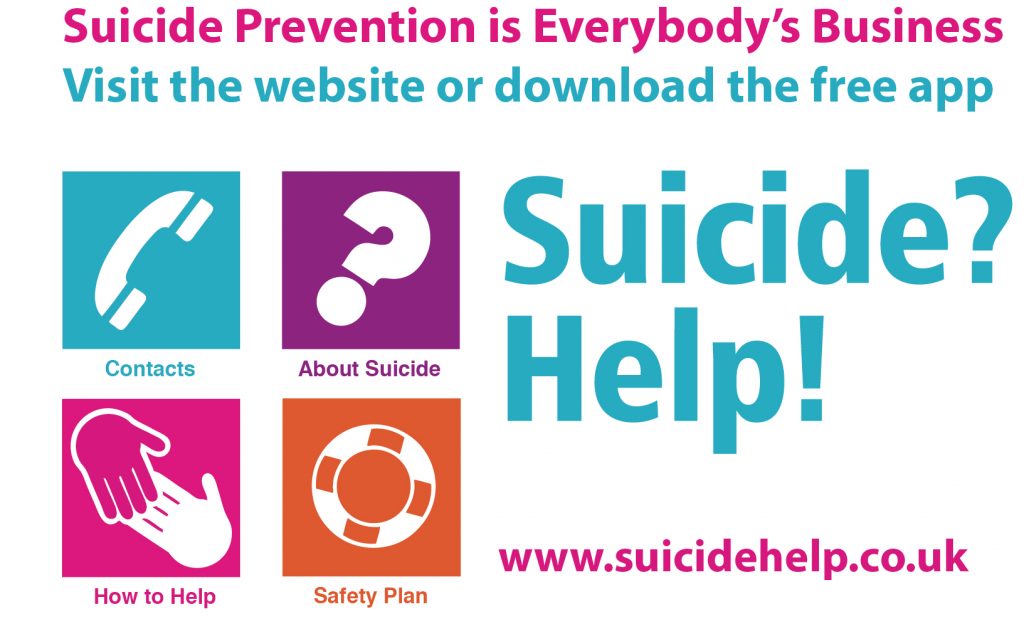 For more of my blog posts talking about mental health or general chats see below:
The one lesson I'd tell my younger self.
Why you should embrace, connect & support all lifestyles
Things they don't tell you in the baby books – a poem.
I've never orgasmed and that's okay / Sex Chat
Hang in there, my friend – a poem to the single parent
Baby loss Awareness Week via Youtube