About
Snufflebabe are a family owned company and care deeply about making the right products for you and your little ones.
They received Queen's Award for Outstanding Innovation issued in 2008 and are the UK's no.1 baby nasal decongestant range (Source: Based on sales data MAT) and offer five effective solutions to help your little one breathe, feed and sleep in comfort!
What I received
I was kindly gifted four Snufflebabe products from the PR company Brand Nation which are Snufflebabe Nasal Spray, Snufflebabe Nasal Drops,Snufflebabe Vapour Oil and Snufflebabe Nasal Aspirator. 
Snufflebabe Nasal Spray
As well as relieving nasal congestion from colds, Snufflebabe Nasal Drops and Nasal Spray can also be used to help clear congestion caused by hay fever, dry nasal mucosa and to ease other respiratory problems and I've found it very useful the past three months as my baby has had lots of blocked noses! The Nasal Spray is easier to use for slightly older, wrigglier infants such as mine and I have used it on my four and eight year old.
How to use:
Babies: Spray 1-2 times in each nostril before feeding.
Children: Spray 2-3 times in each nostril as needed.
If symptoms persist, speak to your doctor.
There are warnings on the website and the packs:
Store in a dry place that's below 25°C.

Do not use if sensitive to any of the ingredients.

Wipe the nozzle clean after use and replace the cap.

For hygiene reasons, this bottle should be used for only one child.

Throw away 8 weeks after opening.
Ingredients
Sodium Chloride 0.9% w/w, Benzalkonium Chloride, water.
This used to be called nasosal, but has since been welcomed into the Snufflebabe family of products. Try using it along with our Nasal Aspirator: it helps loosen dried mucus, so you can use the Aspirator to physically clear your baby's nose.
Snufflebabe Nasal Drops
They are the same saline solution (containing – Sodium Chloride 0.9% w/w, Benzalkonium Chloride Solution 0.02% w/w, water) but in different formats. Snufflebabe Nasal Drops come in a sterile container and are great for newborns as well as children.
A blocked up nose can be distressing when your baby is small and it can stop your little one from sleeping and eating, making them tired and irritable (just like any of us!) Snufflebabe Nasal Drops can help.
Clearing little blocked noses caused by congestion often associated with allergies, hay fever, dry nasal muscosa and other respiratory problems and works by rinsing Pollen, dust, viruses and bacteria that all collects in the nose and restore moisture, making your baby's nose feel more comfortable.
To use – gently squeeze 1 or 2 drops in each nostril as needed, or as directed by your doctor or pharmacist.
Cautions
Store below 25ºC in a dry place.

Keep tightly closed.

Do not use if the seal is broken.

Do not use if you are sensitive to any of the ingredients.

Store away from children.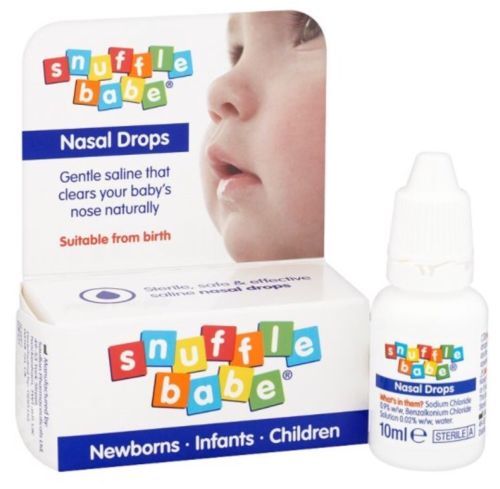 Snufflebabe Vapour Oil
A cool idea – a Vapour Oil that contains Lemon, pine and tea tree essential oils contains allergens: Linalool, Citral, Limonene – that's suitable from birth so with its natural decongestant, antiseptic and antibacterial properties it can help when used in baby's room.
You use as a room vapour – just add a few drops to a bowl of warm water or to a damp cloth over a radiator and also from three months as well as using as a room vapour you can 1-2 drops can be used in the Snufflebabe Inhaler Dummy.
Do not put drops in nose or mouth.

avoid contact with child's clothing, skin and eyes.

Keep out of reach and sight of children.

Snufflebabe Nasal Aspirator
The Snufflebabe Nasal Aspirator is effective that it is the only aspirator that is also available on prescription that's completely reusable with a useful storage case and 2 filters – at first the idea is quite scary of sucking snot out!
This aspirator allows you to safely and naturally clear your baby's nose for clearer breathing, easier feeding and better sleep (hopefully!) by removing excess mucus also helps prevent further complications such as coughs, ear infections and tummy upsets.
Clearing your baby's nose is especially useful before a feed to help baby latch on and breast feed more easily and if using a bottle you can also use the innovative Baby nose-clear Vapour–ring which safely holds natural vapour near your baby's nose during a feed.
Simply target visible mucus and suck – there is a guaranteed protective filter Target visible mucus at baby's nostril (not inside) with the end of the bulb nozzle and suck through the mouthpiece.
The mucus collects hygienically in the sealed chamber and you have complete control by varying the level of continuous suction and it is not possible to over suck and do harm After each use, simply unscrew the bulb to access the filter then wash all parts in warm soapy water and dry thoroughly.
Sterilise if using between infants using liquid sterilising solution – the filter will shrink if heated.
Easy to clean and reuse

Medicine free

BPA free

Designed by a mother of premature triplets

Pediatrician approved from birth

Superior award winning design

Continuous gentle controlled suction

Guaranteed protective and hygienic filter
Cautions
Never push nozzle into baby's nostril

Never use on mouth or ears

This is not a toy and contains small parts
Where to buy
Various places sell these products from the full set to just one or two items – I've seen them sold in Aldi and starting to see them in more shops too. They are available in Supermarkets such as Tesco, Asda, Superdrug, Boots, Morrisons and Sainsburys but also online like Amazon.
Overall thoughts
After trialling this product over several months I can say I feel it's a great product to use for my baby and older children, I have seen online a parent saying one of the products burnt their child's nose and throat, however I have not experienced any negative side effects to its usage. If nasal congestion persists, consult your GP.
If you've seen my Instagram stories you will of seen mentions of it/usage. My favourite Snufflebabe product to use is the Nasal Spray and the Oil Drops as I have found they have helped clear stuffy noses plus the oil smells nice!
I find using drops or a spray on wiggly babies a challenge but never got it in her eye but if you do they say wipe the area with a cool damp cotton pad. This product is a saline solution – mostly just salt and water (much like natural tears)  and so is unlikely to have any adverse effect on your baby's eye. 
The packaging is easy to open, detailed and the cost are what you would expect of these products although of course vary depending where you buy them from.
Check out their socials! Instagram Facebook