You only need to look at the changing colours of the trees to notice that autumn is upon us! With that also come the seasonal colours, the wardrobe, the chill in the air and the annual pumpkin harvest (of course!)
There are surprisingly many uses for pumpkin, such as:
Eating – soups, dips, stews, roasted, baked.

Drinking – the now popular 'Pumpkin Spice latte' contains a trace amount of pumpkin. 

Decorating

Body Care
Did you know?
As one of the most popular crops in the United States there is a huge 1.5 billion pounds of pumpkins produced each year it's no wonder we have found so many ways to use this orange wonder of the fruit kingdom.  

Although often thought of as a vegetable, pumpkins are actually a fruit because of the seed bearing structure of flowering plants. Vegetables on the other hand are the edible portion of plants like the leaves, bulbs, roots, stems, tubers and flowers.

The average yield of pumpkins in the UK is 4,250 per acre
In 2016, the UK grew 3,523 acres of pumpkins, which equals 14,972,750 pumpkins!

Pumpkins come in all different colours, including green, white and blue!
1. Pumpkin carving
Some ideas you can carve:
Cut in house shapes for a silhouette Pumpkin

Witch pumpkin (Turn the pumpkin on its side and use the stalk as a nose to create a cool character)

Deathly Hallows pumpkin (for Harry Potter Halloween fans)

The Words Boo emblazoned

Disney characters

Day of the dead pumpkin – my fave

Jack O Lantern pumpkin

Skull pumpkin – classic

Super Ninja Turtles pumpkin

Puking pumpkin – put the insides back in, looks like it's throwing up!

Evil pumpkin

Braces pumpkin – for a goofy grin

Emoji Pumpkin

Ship pumpkin – for the extra crafty

Tooth pick pumpkin – i

f you don't to carve individual pumpkin teeth, use toothpicks instead!

Clown pumpkin – use paint

Mouse Pumpkin

Alarm clock Pumpkin

Home number (or name) pumpkin

Spray paint your pumpkin 

Jackyl and Hyde Pumpkin (my kids do a side each)

Bat Pumpkin – add wings!

Stars and moons – power drill for holes if you have one.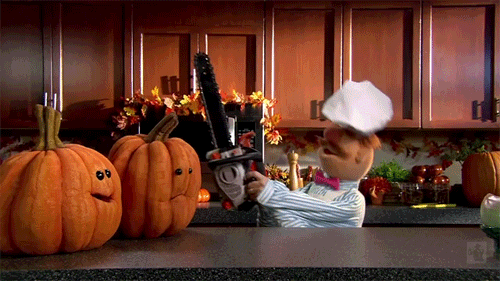 Unicorn Pumpkin – add the horn and tail!

Sunflower Pumpkins – one on top of the other with the top being the sunflower and others being the stalk.

Zombie skeleton hands – hands being the top one and arm being the bottom

Spider Pumpkin – add legs to a painted black Pumpkin!

Mummy Pumpkin – put a small pumpkin 'in the belly'
For more ideas check out these sites I found – Women's Day, Pinterest Templates and Pumpkin Carving Craze
2. Pumpkin Spice latte Recipe based on the idea from Starbucks
Ingredients
1 cup milk.

1 tablespoon pumpkin spice syrup.

1 teaspoon vanilla simple syrup.

2 shots espresso or 1 cup coffee.

Whipped cream, to garnish.

Pumpkin spice (equal parts cinnamon, ginger, nutmeg, and ground clove), to garnish.
3. Pumpkin Soup
Total time 1 hour 15 minutes – 8 servings – 114 cals
Ingredients
6 cups chicken stock
1 1/2 teaspoons salt
4 cups pumpkin puree
1 teaspoon chopped fresh parsley
1 cup chopped onion
1/2 teaspoon chopped fresh thyme
1 clove garlic, minced
1/2 cup heavy whipping cream
5 whole black peppercorns
Method
Heat stock, salt, pumpkin, onion, thyme, garlic, and peppercorns. Bring to a boil, reduce heat to low, and simmer for 30 minutes uncovered.

Puree the soup in small batches (1 cup at a time) using a food processor or blender.

Return to pan, and bring to a boil again. Reduce heat to low, and simmer for another 30 minutes, uncovered. Stir in heavy cream. Pour into soup bowls and garnish with fresh parsley.

Enjoy!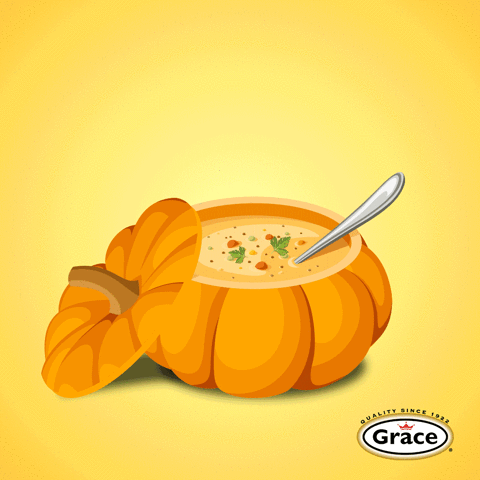 4. Pumpkin Crisp Dessert Recipe
This crisp will make you forget pumpkin pie ever existed. The crunchy topping is the perfect accompaniment to the smooth pumpkin filling. Go to Delish for loads of Pumpkin ideas!
Total Time: 1 

hour 
6 
servings
Cooking spray, for pan

3 

eggs

1 cup. 

granulated sugar

1 

(15-oz.) can pumpkin purée

2/3 c. 

heavy cream

2 tsp. 

pumpkin pie spice

1 tsp. pure vanilla

extract

1/2 tsp 

salt
For the topping
1 1/2 cup.

 

all-purpose flour

1 1/2 cup. 

dark brown sugar

3/4 cup. 

cold butter, in 1/2″ cubes

1 cup. 

chopped pecans

5 whole black peppercorns
Pinch salt if wanted and 
Whipped cream or vanilla ice cream, for garnish.
Preheat oven to 375°. Grease a skillet with cooking spray. In a large bowl, whisk together eggs and sugar. When smooth and fully combined, add pumpkin, cream, vanilla, pumpkin pie spice, and 1/2 tsp kosher salt. Whisk until smooth and blended. Pour into prepared pan.

In the bowl of a food processor, pulse the flour, brown sugar, and salt to combine and break up any clumps of brown sugar. Scatter the cubed butter over the dry ingredients and pulse again until crumbs form. Stir in the pecans.

In the palm of your hand, press handfuls of the topping into rough balls. Break off teaspoon-sized pieces and place over the pumpkin. 

Bake until the filling is set and the top is golden brown, 40 to 45 minutes. 

Serve with whipped cream or ice cream.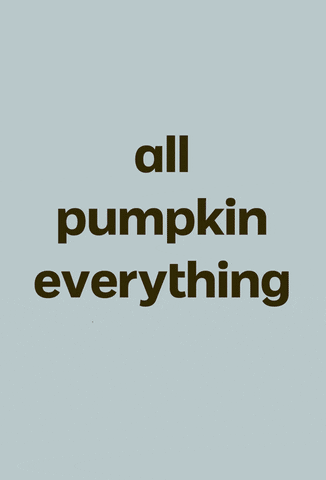 4. Pumpkin Punch Bowl
Impress your Halloween party guests by serving up apple cider inside a transformed hollowed out organic punch bowl! 
 Start with a low, fat pumpkin. With a serrated knife, cut off the top one fourth of the pumpkin.

Scoop out innards and seeds with your hands and a large spoon. Use paper towels to dry inside of pumpkin.

To create the gourd "feet," cut a wooden kebab skewer to a length of 1.5 inches. Stand gourd up in position as shown. With a hammer, carefully hammer the skewer piece through the top of the gourd and into the outer shell of the pumpkin.

Don't puncture all the way through to the interior of the pumpkin — you don't want liquid leaking out. Repeat with three remaining gourd "feet."

Fill pumpkin with apple cider.
5. Make your own 20 minute face mask for one use.
2 Tbsp organic canned pumpkin puree or 1 small pumpkin
1/2 tsp organic honey
1/2 tsp milk (I used skim, but you can substitute soy or almond)
Method
Start with clean skin. Remove all makeup and wash your face with your regular cleanser.

Combine pumpkin puree, honey, and milk in a small bowl and mix well. If using a fresh pumpkin (or leftovers from a carved jack-o-lantern), scrape the insides and remove the seeds. Beat the gooey insides to a creamy pulp and mix with honey and milk.

Apply the mask using your fingers or a medium-sized makeup brush; avoid getting the mixture too close to the eyes. You can also apply to the neck and decolletage, but you'll probably need to double the ingredients.

Allow the mask to set for about 20 minutes.

Gently wash off the mask with a warm, damp washcloth and follow with a moisturizer.
6. Make Pumpkin Puree
It's incredibly versatile: You'll be able to turn your puree into pumpkin muffins, breads and soups down the road — even a delicious Thanksgiving pumpkin pie. Pumpkin puree is the base for most of the delicious dishes on this list.
Creating the puree is simple: Just boil, bake or steam your pumpkin! The puree freezes well for future use – use zip-closure freezer bags, filled and partially flattened for easy stacking.
7. Vegan Pumpkin Butter
Makes approx. 3.5 cups (varies depending on how long you cook it down)
Ingredients
3-4 tbsp pure maple syrup, to taste

1 tbsp ground cinnamon

1/2 tsp ground nutmeg

4 – 4.5 cups fresh pumpkin puree (made from 3.8 pounds sugar pumpkin)

1/4 cup sweet apple cider or apple juice, more if needed

1 cup Sucanat (or brown sugar, unpacked)

1 tsp fresh lemon juice (enhances flavour and helps preserve)

1 tsp pure vanilla extract

pinch of fine grain salt
Roast your sugar pumpkins (see this tutorial). Cool for 10 minutes on pan before handling.

Add pumpkin flesh (without the skin) in a blender. Add juice and blend until smooth, stopping to push down the pumpkin when necessary. It may take a bit to get it going.

Add the Sucanat (or brown sugar), maple syrup, cinnamon and nutmeg. Process again until super smooth and no clumps remain.

Spoon mixture into a medium-sized pot. Cover with lid and prop lid ajar with a wooden spoon. Over medium-high heat, bring mixture to a low boil. Reduce heat to low-medium and cook for about 10 minutes, or until it's as thick as you want it. Keep the lid ajar throughout the cooking process – you will find it splatters everywhere so be careful!

Remove from heat and stir in vanilla.

Cool completely, stir in lemon juice and a pinch of salt, and then store in a sealed jar in the fridge. Should keep for 2-4 weeks.
Try on toast or in your recipes!
8. Roast the Pumpkin seeds
They're a classic snack for a reason as a handful of roasted pumpkin seeds is a delicious way to get iron, magnesium, zinc and a healthy dose of fibre. 
In addition, a 1-ounce (28-gram) serving contains (1):
Fibre: 1.7 grams
Carbs: 5 grams
Protein: 7 grams
Fat: 13 grams (6 of which are omega-6s)
Phosphorus: 33% of the RDI
Vitamin K: 18% of the RDI
Manganese: 42% of the RDI 
Magnesium: 37% of the RDI – has been shown to benefit your blood pressure and help prevent sudden cardiac arrest, heart attack, and stroke,
Iron: 23% of the RDI
Zinc: 14% of the RDI – for Immune Support
Copper: 19% of the RDI
They also contain a lot of antioxidants and a decent amount of polyunsaturated fatty acids, potassium, vitamin B2 (riboflavin) and folate.
If you prefer to eat the seeds roasted, do so yourself so you can control the roasting temperature and time. Raw pumpkin seeds can be roasted on a low heat setting in your oven (no more than 170 degrees F or 75 degrees Celsius), sprinkled with Himalayan or other natural salt, for about 15-20 minutes.
Or you can make 2 cups of: 
Salted Caramel Pumpkin Seeds
Ingredients
3 tablespoons granulated sugar

1/4 teaspoon ground cinnamon

1/4 teaspoon ground ginger

1/8 teaspoon ground nutmeg

2 cups raw pumpkin seeds, rinsed and pat 

dry

Nonstick cooking spray

1 tablespoon butter

1 

tablespoon

 each, brown sugar and granulated sugar

1/2 teaspoon salt
Method
Preheat oven to 300 degrees F.

Line a baking sheet with parchment paper.

In a medium bowl, mix sugar, cinnamon, ginger and nutmeg.

Add seeds and toss to coat evenly. Spread on the baking sheet and spray with cooking spray. Bake seeds until lightly golden, 20 to 25 minutes.

Melt butter in a large nonstick skillet over medium heat. Stir in sugars and salt; cook until deep golden brown, 1-2 minutes.

Reduce heat to low and stir in seeds; coat with buttery caramel mixture and cook an additional minute.

Remove from heat and let cool before serving.

Yum!
The Food Network has this idea of Parsnip soup with toasted Pumpkin Seeds.
9. Pumpkin Spice Hair Mask
A few drops of peppermint oil will create a sensational fragrance for your hair as well as a soothing feel on your scalp. If you have any allergies to pumpkin or other squash foods, do a test run on a small section of your hair before applying the homemade hair mask to your entire head.
If your hair is growing dryer as the weather turns cooler (mines always dry regardless), then it is time to boost your moisture with a deep conditioning treatment. If you can't get enough of all things pumpkin spice right now, then you will be happy to know that pumpkin has amazing benefits for your hair too!
Pumpkin is rich in Vitamin A, C and Potassium too which is an antioxidant and is great for the scalp. Vitamin C helps for overall hair health and growth. In addition, potassium can promote re-growth of hair!
Vegans may substitute agave nectar or vegetable glycerin for the honey and just enough spice to give your scalp the anti inflammatory properties for a healthy growing environment.
Ingredients
2 oz raw pumpkin insides

1 oz raw honey

1 tbsp nutmeg oil OR 1 tsp nutmeg powder

1 oz filtered water

Vanilla and sweet orange essential oils (optional)
Method
Boil water and steep the raw honey in a heat-proof cup.

While the honey cools, add raw pumpkin and nutmeg to a blender; nutmeg oil is a great way to promote hair growth; for those who can't get their hands on nutmeg oil, using a teaspoon of the powdered form.

Once cool, add liquefied raw honey and begin blending.

Make sure there isn't any nutmeg dander floating around before stopping the blender.

Transfer to a seal-able tube; for 2 oz container, use 5 drops of sweet orange essential oil and 3 drops of vanilla essential oil.

Pour your mask on wet, hair and let sit for 10 minutes before rinsing with warm water.

Follow up with your usual conditioning routine and bin after.
10. Pumpkin Spice Sugar Scrub
Ingredients
2 Cups of Dark Brown Sugar (or Light Brown Sugar)

4 Tablespoons (or 1/4 cup) of Extra Virgin Coconut Oil

2 Tablespoons of Pumpkin Spice Latte Hand Soap (or Body Wash if Available)

Add  1 tablespoon pureed Pumpkin 

4 Drops of Vitamin E Oil

4 Dashes of Pumpkin Pie Spice
This recipe makes approximately  2 1/2 cups of scrub enough to fill three small glass jars (which you can buy from places like Wilko,  The Range, IKEA plus many more places)
Method
Coconut oil like I use comes in a solid state which I buy from Aldi and has to be melted in order to get it into a liquid state.  

To begin making your scrub, use a glass bowl over a pot of boiling water to melt 4 tablespoons (or 1/4 cup) of coconut oil.

Next, place the brown sugar in a large bowl.  

Add the melted coconut oil and all the other ingredients.  

Mix well.  

NOTE: At this point, you get to decide if you like the consistency of the scrub as is.  If you think your scrub is too runny, add more sugar.  If you think it's too thick, add more coconut oil. Store your scrub in air tight containers – won't be massive portions, keep refrigerated. 
11. Pumpkin Seed Crafts
Last year I spent a long time picking all the seeds out to roast in different coloured dyes for the children to design Autumn themed pictures with. You can write letters on the seeds to learn, numbers, shape, counting, colour sorting – anything you like! We used them as leaves in a tree on a piece of paper which was fun.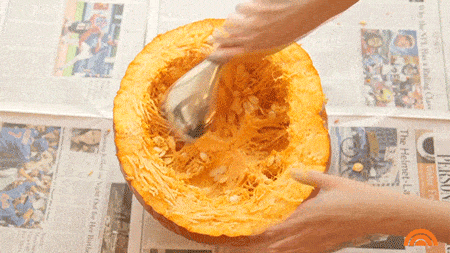 Ingredients/tools
Dried pumpkin seeds

Plastic cups better

Spoons

Food colouring

Vinegar

Water
Method
In each cup, mix 1/2 cup cold water and 1 1/2 tablespoons vinegar. Add a few drops of food colouring until you get the desired colour.

Add the pumpkin seeds and stir to coat. You will have to stir them around a bit to get them coated because they float.

Leave them sit in the cups for around 30 minutes or shorter for lighter colors, a bit longer for darker colors.

Scoop them out onto paper towels or cookie sheets to dry.  Dry overnight or speed up the process by putting them in the microwave or oven.

Be sure the dyed pumpkin seeds are completely dry before using.

Viola!
---
So, with Halloween just around the corner, you'll all be looking for the perfect pumpkin to carve and showcase on 31st October but remember, pumpkins are more than just a decoration!
So make the most of cooking with the seasons and your pumpkin carving fun with the above options! Happy carving!
By the way, the cover photo was me pregnant last year – do not fear – if you don't eat too many seeds you won't grow a Pumpkin (jokes!)
All the best!