What I received
Some amazingly tasty biscuits from Bahlsen which I've probably mentioned on my Instagram a bit too much!
PiCk UPs Milk Chocolate

PiCk UPs Black 'n' white

Pick UPs minis Milk Chocolate

PiCK UPs Dark Chocolate minis

Choco Moments Mint x2

Choco Moments Crunchy Hazelnut x2

Choco Leibniz Orange

Choco Leibniz Caramel

Bahlsen Leibniz Zoo Imagination.
About Bahlsen
Bahlsen is a German food company based in Hanover. It was founded in July 1889 by Hermann Bahlsen as the 'Hannoversche Cakesfabrik H. Bahlsen' that also operates five production facilities in Europe and exports products to about 80 countries.Led by his grandson Werner Bahlsen, the company remains in family control. German politician Ernst Albrecht was CEO of Bahlsen in the 1970s and the press gave him the nickname "Cookie Monster".
Bahlsen produces a range of biscuits and cakes. 
Bahlsen produces a range of biscuits and cakes. Its best known product is the Leibniz-Keks (butter biscuit) introduced in 1891. Bahlsen also makes products such as chocolate-dipped Pick Up! snack bars. Bahlsen operates five production facilities in Europe and exports products to about 55 countries. It also does private label production.
PiCk UP biscuits
They come in four different flavours: milk chocolate, choco and caramel, black 'n' white and dark chocolate. These biscuits are a mouth-watering slab of thick chocolate sandwiched between two crisp biscuits. They are individually wrapped, locking in the freshness and perfect for when you're on the go.
As you bite into the bar there is a definite crunch from the biscuit layers, but not so crunchy as to put off children; my kids were quite happy munching their way through a bar. The milk chocolate layer inside is generous – my favourite being the dark chocolate. 
Each bar contains 143 calories which is 7% of the daily recommended adult allowance, which is not bad considering it contains 43% milk chocolate. Salt appears low, which is obviously good, 0.05g per bar which is 2% of the recommended amount for an adult.
Bahlsen use UTZ certified cocoa in their PICK UP! biscuits and other products. UTZ cocoa means that it is certified that it comes from sources that use sustainable cocoa farming techniques along with responsible management of natural resources. UTZ certified products carry the UTZ logo showing the companies commitment to sustainable and responsible farming.
Where you can get the Bahlsen PiCK UP – the biscuits are available in:
Price wise there are offers on to buy a pack for a £1 which is a decent price! Originally  selling them for £1.69 for a five pack – this works out to be around 34p per bar which is not too expensive considering they are a good sized bar with plenty of chocolate in each one. Major bargain if you can buy them for only a pound though – currently sold that price at Asda and Morrisons!
I love the the PiCK UP! range. It was perfect for taking with you to eat in a later moment. It is great to be able to pack it and have a treat later. They come 5 individually wrapped packs which I thought was really practical. So you can take one and have it later as a snack.
Bahlsen Leibniz Zoo Imagination
Had a look on Mysupermarket price comparison website and the Bahlsen Zoo Animals are only a £1 per pack!
As the Free-From market continues to grow and tasty biscuit options remain incredibly limited it's great they've produced a tasty  new edition to its Zoo range Zoo Imagination that's also gluten and lactose-free. These great tasting, mini 'imaginatively' shaped biscuits are made using corn and teff flour and are certified by the Crossed Grain symbol – reassuring parents that these are safe for all the family to tuck into.
Bahlsen responded to demand from parents for a gluten free biscuit, by developing Zoo Imagination. Packed full of character and fun, with all the great taste that Bahlsen is known for, new Zoo Imagination are the perfect biscuits to go gluten-free, meaning that no one misses out on a delicious treat!
My newborn nephew has been diagnosed lactose intolerant, he may grow out of or tolerate it when he's older differently, however if this isn't the case it's great to know these are available. The biscuits themselves are small so great for children to portion off.
Choco Moments
Mint
"New Choco Moments from Bahlsen is a declisiou combination of a crunchy biscuit and smooth chocolate studded with little peppermint flavoured sugar pearls. We hope you love our new Choco Moments as much as we do!"
Opening the packet greets me with a gorgeous dark chocolate and mint scent, it's definitely a dark chocolate and on its own you'll notice a bit of cocoa bitterness, but it really does work with the strongly punchy mint sugar flavour. 
These Choco Moments feature a much thicker, indulgent coating of chocolate and a crispy, textured crunch to their usual biscuits.
Hazelnut
When you eat the thing as a whole the biscuit adds a deliciously creamy, butter biscuit flavour which offsets the edge of bitterness in the chocolate and smooths the experience out, making for one really yum biscuit.
The chocolate itself is lovely, decently filled with lots of crunchy nutty sugar pieces. The Choco moments feature a much thicker, indulgent coating of chocolate and a crispy, textured crunch to their usual biscuits, plus it comes in two flavours.
Orange 
As you've probably guessed, the orange flavouring in the chocolate is sooooo tasty. 
They smell pleasingly orangey straight out of the packet. You'll get 9 chocolate coated butter biscuits in the tray, with a portion count at 2 biscuits. 
I like how the biscuit brings the whole thing together, somehow. It changes the overall tone and balance of the chocolate portion. Yes of course you can nibble around the edges, munching on the deliciously orange chocolate separately.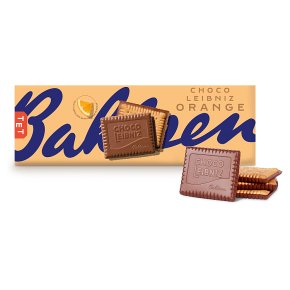 Caramel
A lot of the family enjoyed the  flavour! More chocolate than a biscuit. No added preservatives, artificial colours or hydrogenated fats and also suitable for vegetarians.
Check out the Choco Moments Advert!
They even have recipe ideas! 
Overall thoughts
Forget the diet Bahlsen have the most tastiest biscuits ever! These biscuits contain: no preservatives, artificial colours or hydrogenated fats. These biscuits are perfect to share when you are having a family gathering or you have some friends over, to share with your kids or even if you just want them only for you!
The inner butter biscuit or is delicious with all of them (as always) with a crisp snap and a creamy flavour.
The chocolate is sweet without over egging the sugar and it's got a nicely smooth and creamy melt on its own. I had great fun nibbling the chocolate off from around the edge of the Choco Moments.
They offer good value for money when on offer and provide a tasty alternative to the traditional snack bar favourites. 
There's a pleasing amount of background cocoa in the mix too, which you'd expect from a quality German brand like this. They are very yum yum yum biscuits, I can say that it has been a pleasure trying them and I'd 100% recommend you trying them too, either for yourself or for your family.
All the range are suitable for vegetarians.
Visit the Bahlsen site,