What is Mini U for kids
Mini-U is a great collection of haircare, bath and body care and hairbrushes for kids and families designed with the highest quality formulations at affordable prices and packaged with fun in mind!
Mini-U sells products for kids that take the 'boring' out of bath time and add the 'style' into kid's hair.
2010 is when it all began and Mini-U is passionate about offering safe and effective formulas and strives to keep the nasties out of its formulations whilst offering parents value for money so customers don't need to compromise on performance over price!
The Mini-U collection is SLS/SLES and Paraben free to help protect the skin and hair.
Box Opening
Trix did her own playtime Youtube with their bath bombs!
What we trialled
We received some amazing products to try for the purpose to review – Mini U bath bombs (pack of six), two Mini U Hairbrushes (medium and small), Moisture mania Hydrating shampoo and conditioner, Dynamite Detangling Spray, fizzy plops bath colour tablets and colourful liquid soap.
---
Colourful Liquid Soap
Getting cleaned up was never so much fun because these are four little bottles of fun for little hands – the pack contains four pastels, easy rinse colours with a special painting nib on the end of each tube. Bathtub walls and tiles are now a canvas for their artwork!
The bath is the perfect place for your children to channel their inner Picasso but only if you can avoid a crazy, colourful mess. These are washable and made specifically for use on slick surfaces like bathroom tiles and bath walls and are super easy to clean, making bath time a mess free work of art.
Gently squeeze your chosen colour on to the bath or skin  – doesn't draw onto the bath  side like a crayon as runs down a bit unlike a crayon but it's great for creating art onto yourself or for making colours into the water, however, you can write letters and numbers, practice spelling with your little one or simply let them scribble and draw to their heart's content on a flat surface.
No matter how your artist expresses themselves, these sweet colours will add hours of creative, squeaky clean fun.
NO Sodium Laurel/Laureth Sulphates or Parabens

Fun & educational

Cleanses skin

Does not stain the skin or bath
---
Fizzy plops bath colour tablets and colourful liquid soap
PLOP into the bath, they fizz and colour all at the same time. My children tried plopping a few in at the same time to see what colours they could make, a truly awesome product for children because you can count them in and observe colours plus get clean – more importantly it's an activity in the tub so encourages them to get in! Like mini bath bombs too!
I would recommend this product, especially as a gift! We will definitely try out the other Mini U products on offer, fab alternative to kid especially with sensitive skin!
The bath bomb left a lovely scent in the bathroom, no residue or colour stain was left in the bathtub, neither on the kids and was one of the favourite products.
NO Sodium Laurel/Laureth Sulphates or Parabens

Fun & educational

Cleanses skin

Does not stain the skin or bath – for bath bomb facts

click here.
INGREDIENTS: SODIUM BICARBONATE, CITRIC ACID, PENTASODIUM TRIPHOSPHATE, SUCCINIC ACID, SODIUM SULFATE, PEG-8, PARFUM, DENATONIUM BENZOTE, CI 42090, CI 19140, CI 42090, CI 16255, LINALOOL

---
Mini U bath bombs (pack of six)
../.
If you want to give your baby and children the spa experience, with the bonus that she might fall asleep immediately after. You turn on some soothing rain sounds, gather your baby shampoo, soft towel, some lotion and some Mini U for kids which you can order off their site, Mayfair and Grace, Amazon or Luxplus.
All baths should be supervised of course but just a precaution if you do have young children or babies that put things in their mouth please note these bathbombs currently come with sponges in tablet form. So, for this reason I prefer the bath plops to the bathbombs although I love the idea of a little toy inside. Although they said they are changing the sponge inside from tablet form to a different sponge without dissolving tablet.
Bath bombs are fun because they are very innovative, popular and fun to look at! My children absolutely love these – amazing idea to get kids involved with preparing the bath too.
No Sodium Laurel/Laureth Sulphates or Parabens
Description
Included in the pack:
Bang Fizzy Whizz, Bath bomb for Whizz kids with a kiwi scent (turns water green)

Bang Fizzy Pow, Bath Bomb for Super Heros with a Blueberry scent (turns water blue)

Bang Fizzy Wow, Bath Bomb for Princesses with a Melon scent (turns water pink)

Bang Fizzy Ping, Bath Bomb for Pingus with a Vanilla Scent (turns water white with Glitter!)

Bang Fizzy Boo, Bath Bomb for Mini Monsters with a Mango scent (turns water orange)

Bang Fizzy Split, Bath Bomb for little Monkeys with a Banana scent (turns water Yellow)
Three benefits to bathing
1. Send yourself off to sleep
After taking a few minutes to soak in warm, fragrant water, you probably already feel calm, relaxed and ready to nod off. When the cool air hits your skin when you step out of your bath, your brain also releases melatonin, a hormone that can help you fall asleep even more easily. Travelers often take melatonin as a supplement to help them adjust to a new time zone, but you can get yours the all natural way by hopping in the bath before bed.
2. Soothe your skin
Bathing in warm water opens your pores, leaves skin refreshed and glowing, and gives you the opportunity to deeply moisturize by adding rich oils and butters to your bathwater. 
3. Improve circulation
As you submerge your body in warm water, it immediately responds by sending more blood to your skin's surface, giving you a flushed, rosy look. Your arteries and veins also expand temporarily, lowering blood pressure by creating more room for blood to flow through. This can help you leave your stresses behind and literally soak your troubles away. Studies have also shown that a hot bath can give your body a boost similar to the effects of exercise – so great for kids!
INGREDIENTS: Fizzy Ping: SODIUM BICARBONATE, SODIUM SULFATE CITRIC ACID, PARFUM. Fizzy Boo: Sodium Bicarbonate, Sodium Sulfate, Citric acid, Parfum, CI 19140, CI 16255 Fizzy Split: SODIUM BICARBONATE, SODIUM SULFATE, CITRIC ACID, PARFUM, CI19140, CI42090 Fizzy Wow: SODIUM BICARBONATE, SODIUM SULFATE CITRIC ACID, PARFUM, CI 16035 Fizzy Pow: SODIUM BICARBONATE, SODIUM SULFATE CITRIC ACID, PARFUM, CI 42090, CI 16035 Fizzy Whizz: SODIUM BICARBONATE, SODIUM SULFATE CITRIC ACID, PARFUM, CI61565, LINALOOL
---
Dynamite Detangling Spray
Hair detangler is a type of hair conditioner that smooths your hair by coating it with an oil or polymer and/or by acidifying it so that the hair's surface tightens up, smoothing the scales on the hair's outer surface or cuticle and imparting a positive electrical charge to prevent the static that can worsen tangles
First note of this product – smells so nice! My daughter loves it and feels so grown up being able to use her own product – great on either wet or dry hair. Ever since using this my daughters shocking knotty hair has been so much easier!
One of my saving hair care graces is a trusty leave in conditioner or a detangling spray. The latter especially gets me through those windy, beachy days when a tangle is totally inevitable and now the children have a child friendly version it's ace!
INGREDIENTS: AQUA, GLYCERIN, PEG-40 HYDROGENATED CASTOR OIL, PARFUM, PHENOXYETHANOL, PANTHENOL, ALLANTOIN, GUAR HYDROXYPROPYLTRIMONIUM CHLORIDE, ETHYLHEXYLGLYCERIN, CITRIC ACID, BENZYL ALCOHOL, EUGENOL, GERANIOL, CITRONELLOL, HEXYL CINNAMAL
---
Moisture mania Hydrating shampoo
No nasties or nonsense mix is sulphate free making it gentle to those lovely twinkly eyes of yours, quick to rinse and easy to comb. Also note – no Sulphates means less lather when you do the head rubbing bit.
This hydrating shampoo makes washing hair quick and simple with results that I've used on all my children and cleans their hair well. £4.95 for a 250ml bottle.
What shampoo does
Your skin produces sebum, a greasy substance, to coat and protect hair and the hair follicle. Sebum coats the cuticle or outer keratin coat of each hair strand, giving it a healthy shine. However, sebum also makes your hair look dirty. An accumulation of it causes hair strands to stick together, making your locks look dull and greasy. Dust, pollen, and other particles are attracted to the sebum and stick to it.
Sebum is hydrophobic. It waterproofs your skin and hair. You can rinse away salt and skin flakes, but oils and sebum are untouched by water, no matter how much you use.
For more facts on hair washing click here.
INGREDIENTS: AQUA, SODIUM LAUROAMPHOACETATE, COCAMIDOPROPYL BETAINE, SODIUM LAUROYL GLUTAMATE, C12-20 ALKYL GLUCOSIDE, PEG-150 DISTEARATE, GLYCERIN, ACRYLATES COPOLYMER, GLYCOL DISTEARATE, PANTHENOL, PARFUM, PHENOXYETHANOL, GLYCERYL STEARATE, GUAR HYDROXYPROPYLTRIMONIUM CHLORIDE, AMMONIUM STYRENE/ACRYLATES COPOLYMER, ALLANTOIN, TOCOPHEROL, DISODIUM EDTA, ETHYLHEXYLGLYCERIN, CITRIC ACID, GERANIOL, CITRONELLOL, HEXYL CINNAMAL
---
Moisture mania Hydrating Conditioner
This lightweight formula makes conditioning hair quick and combing easy – great results team this up with our Moisture Mania shampoo and as they come as a pair they smell of the same delicious aroma, refreshing Watermelon.
Very light weight for all hair types.

Right kind of conditioner and your hair will not only be silky, smooth, hydrated and detangled but healthier looking, too. 
Conditioner does as its name suggests: Rather than cleansing strands, it conditions the hair follicle and the effects are immediate. Each hair is covered in tiny cells which look a bit like fish scales.
Damage causes these to stand out which makes the hair look dull, rough and out of condition. Conditioners work by smoothing down these scales so your hair looks smooth and shiny again."
The upshot of smoother strands is less static and fewer split ends so hair is easier to style butt it's not just about looks, whereas shampoo opens the hair's cuticle, conditioner seals it back up, locking nutrients in and pollutants out. This in turn strengthens the hair shaft, preventing breakage, split ends and even hair loss.
How and when to use it
You can use conditioner immediately after shampooing or on its own. Common sense goes a long way – if you hair is superfine and prone to greasiness, condition less often. If your hair is thick and especially dry or damaged (like from colouring, chlorine, or the sun) it should be a more regular part of your hair care rotation.
Many parents often wonder what is a good age to start using conditioner on their child's hair. 
The truth is, it is safe as long as it is needed – baby hair is too fine and young to need it. When your child reaches the ages of 2 or 3 and you feel using conditioner might help in keeping it soft and manageable and help with brushing out tangles and knots then by all means, use a dab! 
INGREDIENTS: AQUA, CETYL ALCOHOL , GLYCERIN , SIMMONSIA CHINENSIS SEED OIL, DIMETHICONE, CETRIMONIUM CHLORIDE, SORBITAN CAPRYLATE, POLYSORBATE 60, HYDROGENATED CASTOR OIL, PARFUM, PHENOXYETHANOL, PANTHENOL, XANTHAN GUM, ALLANTOIN, GUAR HYDROXYPROPYLTRIMONIUM CHLORIDE, CITRIC ACID, ETYLHEXYLGLYCERIN, SODIUM HYDROXIDE, GERANIOL, CITRONELLOL, HEXYL CINNAMAL
---
Mini U Hairbrushes
Mini U Mini Styler for little hands is the perfect first brush for children to look after their hair or the perfect handbag accessory – I think they are great for little hands, super soft to the touch and such soft bristles! £7.95
Mini U Pro Styler  Brushing hair can be a painful affair and when it comes to kids a worst nightmare, for them and their parents – the bigger brushes are just as great as the smaller version. Length 22cm x Brush Back Width 7cm x Handle Width 3cm
About both brushes
These are created to take the pain, drama and hassle out of brushing. The Mini U brushes are perfect for wet, dry, thick, fine curly or straight hair!
Unlike most detangling brushes the Pro Styler is designed with thin, flexible bristles and an easy grip handle. The rubber coated easy grip handle allows the user to glide through styling without dropping the brush.
Rubber coated easy grip handle.
Super soft flexible bristles to glide through nuisance knots and tangles.
High quality padded cushion provides a soft massaging feel to the scalp.
Brush wet and dry hair with ease.
Reduce hair breakage and pain
The stylists new best friend
Available in 4 eye catching colours.
Colour coded bristle tips and cushion.
The bristles are finished with soft tips to enhance circulation to the hair follicles. The soft tips combined with the padded cushion makes the brush gentle to the scalp with a massaging effect.  
The Pro Styler soft tip flexible bristles is meant to reduce the hair breakage and pain experienced from brushing. One of my favourite brushes ever now – seriously soft and my daughter loves it too!
---
Award winning
2016
Prima Baby & Pregnancy 2016: Bronze Award for Fizzy Plops Bath Colour Tablets.

Loved by Parents 2016: Gold Award for Fizzy Plops Bath Colour Tablets.

Loved by Parents 2016: Gold Award for Bang Fizzy Whizzy Bath Bombs.
2017
Made for Mums Awards 2017: Fizzy Plops Multi-Pack.

Junior Design Awards 2017: Silver Award Mini-U haircare, Mini Stylers, and Pro Stylers
Best Baby Toddler Gear 2017: Shortlisted Mini Styler Hairbrush
Best Baby Toddler Gear 2017: Bronze Pro Styler Hairbrush
2018
Made for Mums Awards 2018: Gold Mini-U entire collection
---
OVERALL THOUGHTS
These are thoughtful products designed for children which have caused no allergic reactions on my children, smell lovely, wash them plus bring joy to bathtime. Used alongside the corresponding products they are very effective child items but gentle enough for my little ones.  We all love the smell and highly recommend.

I've been sent these products to review but all opinions are my own and after they've been used I'll be getting more!
---
ALSO they have a competition going on!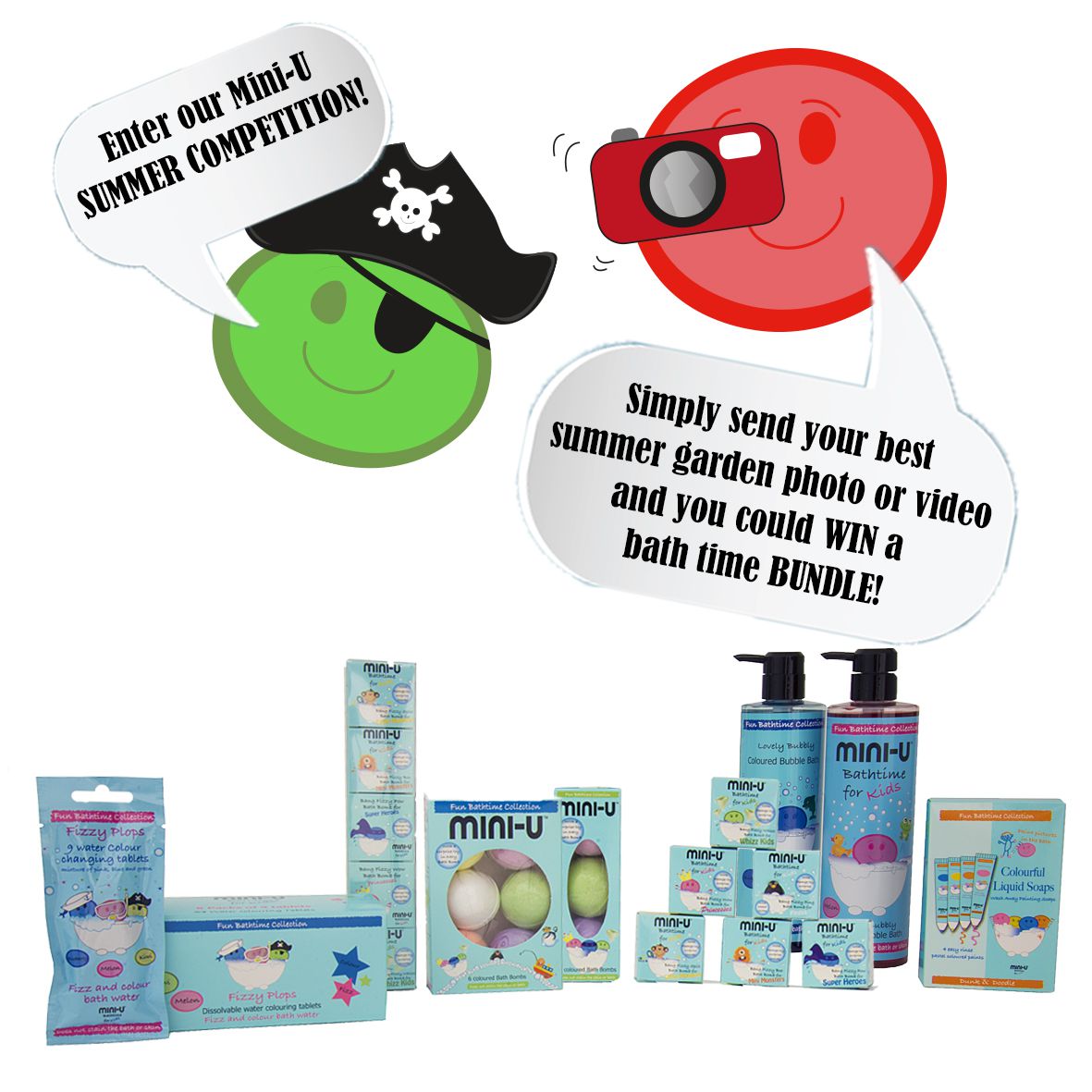 To enter: Simply share a favourite photo or video to your followers on Twitter, Facebook or Instagram, make sure you tag Mini-U @miniuforkids with the #summerfuncompetition Include the fun you have been having with the Mini-U bath time collection in the garden, be as imaginative as you like!