What is childs farm?
Childs Farm is a new product I've found and love! It's also an award winning British brand that believe every child should feel happy in their skin whether it's normal, sensitive, dry or eczema prone. I was extemely happy to be sent three full bottles – to sample as my son gets very dry, rashy, spotty skin especially with swimming and also with wearing bed time pants!

I've been using all three of these products on my children – 7, 4 and 7 months and I genuinely have noticed a difference with my son and baby as he is prone to very dry, rashy, irritable skin and of course a baby gets nappy rash and also has very gentle skin! I feel these products are worth the course although yes alot pricier then you could get for a different brand or own store brand, however, seeing the results first hand and knowing all the goodness inside makes me feel like it's a brand I can trust. The bubble baths smells super nice as well! The cream hasn't much of a scent but rubs in well AND WORKS, the shampoo of course cleanses the hair (no tears) although my children require conditioner too as they have unruly hair! So, I will really need to see and try out more out their range!
I really LOVE the appearance of the bottles – so colourful, very appealing and very child friendly. Their advertising feels very pure and well designed to appeal to its target market. The only downside to these products is the expense – for example average price £3.50 for 500ml and you can get another for 500ml for about £1.99, however, my eldest daughter has had a reaction to a cheaper product previously and you do pay for quality. Prices do vary from place to place also.
They're one of the very few baby and child ranges to undergo clinical safety tests and controlled user trials so all their products are dermatologist and paediatrician approved as suitable for sensitive and also eczema-prone skin. That's why they use naturally derived ingredients and essential oils to produce a range of mild, kind and safe products for newborns, babies and children and hasn't had one with this.
#JoinTheRevolution
What's in the products?
Essential oils – as well as smelling great, essential oils possess additional benefits. Some, like peppermint oil, contain a natural biocide which lifts off grime, while others, such as tea-tree oil, can deter head lice. Their aromas can also affect the way we feel and promote wellbeing, naturally. And to be safe, we only use essential oils that can be put undiluted onto a baby's skin.
Natural detergents – all their surfactants are derived from beets, corn and coconut and are Soil Association permitted. Conventional laundry detergent is loaded with chemicals like sulfates, fragrances, phenols and more and many brands contain things like petroleum distillates – which are linked to cancer and lung disease. Fragrances in these detergents are made of a mix of harmful chemicals
Natural preservatives – they use high-grade, broad spectrum preservatives at the lowest safe concentrations and natural preservatives like rosamux, derived from rosemary.
Natural moisturisers – they rely on natural ingredients such as vegetable glycerine to hydrate skin and hair which keep on working long after bath time and also use plant-derived oils like argan oil which are incredible emollients that reduce the amount of water escaping from the skin, helping it hold onto moisture.
"Here at Childs Farm we review our ingredients and product specifications on a regular basis in order to offer the best products for our customers. Our reviews also take in to account advances in the latest research, and the requirements of applicable legislation. As a result of one of these periodic reviews we are making some changes to what we say about our products on our website and labels, which will be taking effect over the next couple of months. In addition to this, we will soon be announcing some new certifications which we are very excited about."
What are Organic Standards?
Standards are the rules that define how an organic product must be grown, farmed or made!
All organic food and drink sold in the EU has to meet the EU organic regulation, this is shown by the green leaf logo on pack. The Soil Association wants to ensure the highest possible standards of animal welfare, environmental and wildlife protection, so we have set our own higher – or stricter – standards in key areas. Our standards put our principles into practice and are at the heart of our work.
Where can you buy their products?
You can find Childs Farm products in the majority of major supermarkets such as Morrisons, Tesco and Asda and as well as pharmacies like Boots and can be found in the Baby aisle sections.
What is in their range?
To see their full range click here! (They even have bottles with unicorns on! UNICORNS!!) The products I have featured in this blog post are – moisturiser, bubble bath, hair & body wash (which like stated I was sent as purpose to review), baby moisturiser, nappy cream, baby bedtime bubbles and baby wash I already had. I love the vast range to suit all needs – feels like a cream or wash for every purpose for your children plus all organic.
The baby range has a different design with its simple, plain colours – the baby range are a very nice and subtle in design. As it is fragrance free, I cannot comment on the smell but it produces small bubbles when mixed in the water and is colourless. Generally, I would not really spend so much on this type of product but it would probably last a good amount of time and would be worth spending the extra money on if it's helping my baby's gentle or sore skin.
They also do suncream! Which you can purchase from Boots! AND THERE'S 70ml ROLL ON! Actual roll on sun lotion like a deodorant – click here for evidence!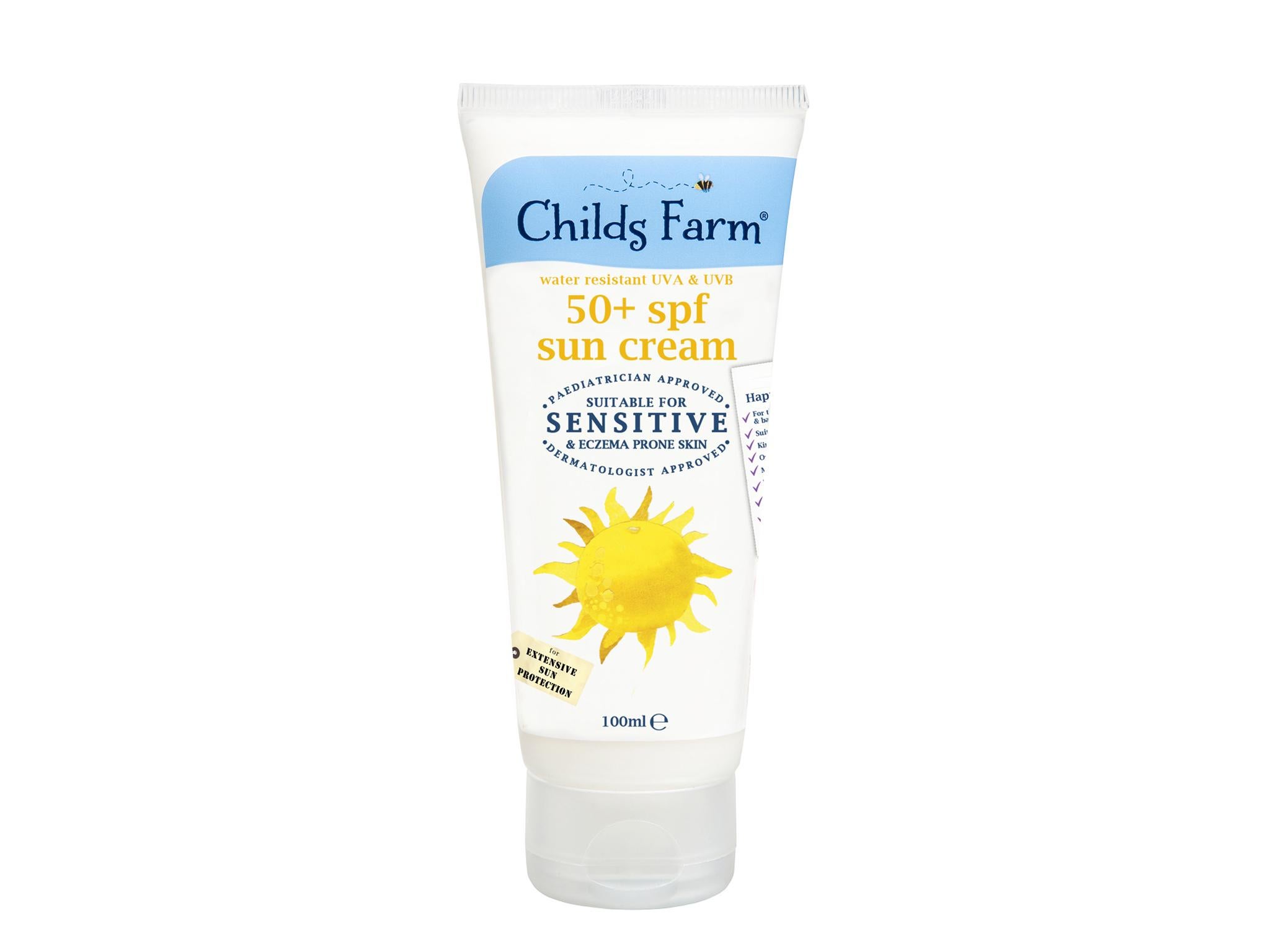 This sunscreen contains titanium dioxide, which acts as a physical block – rather like a mirror – to reflect away damaging UVA and UVB rays. So when you first put it on, the skin will look white. Also you need to warm up the lotion in your hands and spend some time rubbing it in. This is one to do inside before you hit the beach or pool, so you can ensure you've really worked it in for full coverage. It's been developed particularly to help sensitive skins and kids prone to eczema. It's nasties-free, so no parabens, sodium lauryl sulphates (which are commonly found but can be irritable), mineral oils or artificial colours.
Summary
I would definitely recommend this range of toiletries to other mums as I think they are a great product to use and it leaves my baby's skin and hair so soft and the scented wash and shampoos smell lush for my older children! All the range is suitable from newborn so you don't need to worry about anything harsh that might irritate baby's skin as I've stated above and all products will make my life easier as they are perfect for my all my childrens skin and I know I don't have to worry about any reactions. I only wish I had the whole entire range now as they'd make my bathroom look so pretty!