ABOUT
Project Mc2 (pronounced Project MC-squared) is an American web television series produced by DreamWorks Animation's AwesomenessTV and MGA Entertainment for Netflix.
Four girls who love everything S.T.E.A.M. (that's science, technology, engineering, art and maths – the girls attend Maywood Glenn Academy – but are also part of a secret, seriously cool organisation, NOV8 (pronounced 'Innovate'). Even their friendship makes mathematical sense – based on the Pythagorean theorem that A2 + B2 = C2! Watch the show on Netflix and see how the girls solve secret missions using science and technology!
You can buy the fashion doll line and accessories and you'll be able to do your own cool experiments at home – using ingredients from your kitchen cupboard! We have got a couple of dolls already and I personally love the variation of them. 
For all the info on Project Mc2 and a chance to join in secret challenges visit www.projectmc2.com
Without further ado!…
We have been sent a Project Mc2 Ultimate Spy Bag for purpose of review – and we are so happy to oblige! Toys as funky as this are worth the play time. Did I play with it? Well, of course! I love toys like this!
Here is our vlog unboxing – check it out! 
It wasn't hard to remove the bag from its box and once opened we found that it's definitely not short on fun or creative ideas! As you can see in the vlog Eva-beatrix was very keen to open up the Ultimate Spy Bag!
Product Description
NOV8 is issuing the best of their top secret spy gadgets to new recruits!
You can investigate in style with spy gadgets in disguise! Use the Project Mc2 Ultimate Spy Bag on your secret missions, just like Adrienne Attoms in the Netflix original series.
Prove you have what it takes to become a top NOV8 agent!
Forensics is the use of science to investigate crimes and analyse evidence. Investigators use many different areas of science – including chemistry, biology, and physics – to help crack cases.
Fingerprinting is one of the oldest methods they use. A fingerprint is created by the oil residue left by a person's finger and because the ridges on fingertips are unique to each person, studying the patterns left behind by a fingertip help investigators figure out the culprit! Download the Project Mc2 Case Files iOS app to test out your sleuthing skills!
WHATS INSIDE?
As listed above the pink handbag has 15+ pieces – it comes with:
ini spy book (with ideas for different science experiments and includes beakers and test tubes to carry those out in which I think is really cool encouraging science ideas!)

Some cool cards to record fingerprints, it includes a torch disguised as a nail polish bottle.

A lipstick that's actually a secret message launcher.

An air blower that looks like a perfume bottle.

Fingerprinting kit that resembles a compact make up powder kit with a magnifying glass (you can use the shimmery dust as a blusher too!) 
APPEARANCE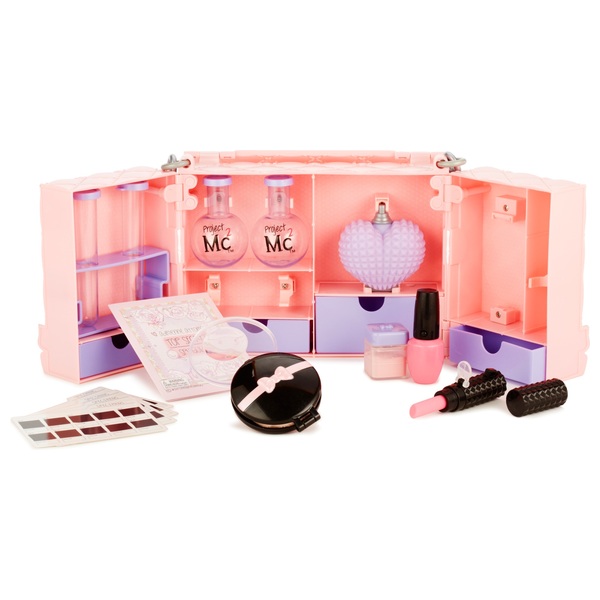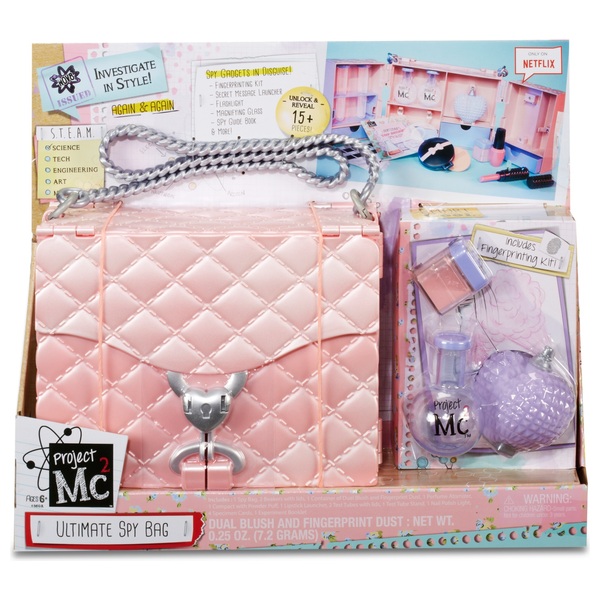 THOUGHTS?
Eva-Beatrix's favourite is the secret message launcher although at first we just thought it was a dart! I love the idea of turning normal objects into secret agent gadgets – multifunctional – and so did my daughter! (My four year old son got chance to play with it and he liked the lipstick torch… In fact he wanted to look at the whole thing for himself as what child doesn't love the idea of gadgets)
Pros
The concept of this bag does capture the imagination and the spy book includes a few science experiments that both my children can't wait to try – will update you on them!

Very aesthetically pleasing – the bag is cute and trendy, everything a spy could want to help her (or him) on their way (although yes target audience is girls!)

Encourages children with role play.

The bag has test tubes and beakers so they can make up their own experiments to play with. It also makes the set look more realistic to play with too.

It's a popular product and with a show on Netflix very up to date.

The products fit in their own little slots inside the bag, so they do not move about when you walk around with the bag.

Great quality.

Batteries 3 x AG13 (included)

Suitable for ages 6+ so an accurate age limit but my four year old son loved it.
Cons:
Has a time limit if you run out – can you buy replaceable powder and finger print sheets?

Priced at between £30 and £40 the Project MC2 Ultimate Spy Bag isn't cheap when you think about it.

There is only one experiment you can do with this big set, you have to go and buy the extras to do the rest, would of been better to buy science sets if you want to have the science vibe so perhaps a little sample of each item to do a mini experiment inside would be better.

Some may be offended about the 'girl themed science' – the fact that it could make a girl feel that things have to be feminine therefore sexist.

The finger print doesn't come off that great at times.
Where available?
eBay – used or brand new.
Hope you found this review helpful! Best of luck on your future sleuthing!