What is Karcher window Vac?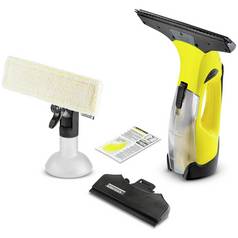 The Kärcher WV5 Premium as a hand held window cleaner is just being humble and modest – it's true potential is undermined for it does more than just clean windows as it cleans spills from all surfaces suitable for it – from lino's, tables, tiles and many more.
As well as clean bathroom tiles, glass/plastic shower cubicles, mirrors etc. It's specifications and features are great and being a cordless device it charges quickly and is very light in weight too.
When in use it's also quiet and even my daughter knows how to use it so it was fun for her to try! I like the ease of use – puts together well, has different gadgets to it, and for a mother always good with sticky fingers all over the house from pesky kids!
Attain smudge-free, super clean windows with the Kärcher WV 5 premium window vacuum, updated to give a more powerful clean.

Windows are left clean and dry with a compact suction nozzle, along with cleaning cloth and detergent to ensure a sparkling finish.

This premium cleaner runs on a battery allowing you to carry it around your whole home with ease. It could even be used to clean the car windows.
What do you get?
Includes narrow cleaning head and spray detergent kit.
0.1 litre wet capacity.

Total capacity 0.1 litres.

35 mins running time on full charge.

240 volts rechargeable power.

Sucks up wet and dry spills.

Cordless.

Includes large suction head 270mm, small suction head 170mm for small windows, spray bottle, detergent.

Weight 0.65kg.

Model number: WV5 Premium.
WHERE TO BUY
Amazon Karcher WV5 is where you can buy this product from as well as in local shops like B&Q. 
IN USE CLEANING UP USING THE BOWERS CHALKS
BOWERS CHALKS
The chalks we've used you can buy from eBay at £15.99 or Amazon and the kids loved this too! Such vibrant colours on glass and easy to wash off.
8 vibrant colours – Bower liquid chalk marker pens feel fantastic to write with and give a touch of fun and originality. The results also look really professional, be it a shop window design, pub menu signs, a wedding table planner, cupboard jar labels, or just cute notes to your partner on the bathroom mirror!

Bower chalk pens with a 4.5mm nib have been specially designed to give you more than twice the ink of many other leading 3mm nib chalk pen brands!

Once dried the ink can easily be removed with a dry cloth or kitchen roll (or a Karcher WV5 vac!) If used on absorbent or porous surfaces the ink can stain. This is particularly the case with traditional blackboards so always test a small area of a new surface first.

Designed and manufactured to Bower's impeccable standards, the water based pens are suitable for both adults and kids. We recommend that children are supervised and the instructions on the pack are followed. Draw a picture on a window safe in the knowledge that once dry it will wipe straight off. Try your art skills at a Christmas, Easter or Halloween scene or just for general drawing of course!

First use – Shake well and repeatedly pump the dry nib end until you see the ink flow over the end – took ages to get the liquid through so at first I thought was broken.
I received the Karchers product to review but paid for half of the product from The Insiders Campaign, I've received other items too such as: