50 EASY MEAL IDEAS FOR YOU AND THE FAMILY
Perhaps to you they may seem gross, too weird and unachievable all the time but I've had to mix and match a lot of things to see what works (People with foods intolerances – the food can be altered)
MEAL PLAN:
Also done meal plans – using different recipe books and getting them involved with the food planning, shopping, writing and cooking.
1.Separating the food with hummus and cucumber of course! It's a chickpea beef mince (don't judge the photo, it was nice… Honest!)
2. Chicken goujon with chopped cheese, houmous and coloured rice with peas in. (Already pre-done rice haha!)
3. Falafel burger, ketchup, coleslaw (yes, hummus. Get the hint it's a tried and tested method mine like it)
4. Jam on toast and chopped kiwi (that's called 'I gave up')
5. Chopped up cheese (my son loves obviously) scampi and coleslaw.
6.Classic Heinz soup and toast!!! ALWAYS a winner. (Doesn't have to be Heinz – started buying Aldi but taste wise just preferable)
---
7. Poached eggs on toast (of course my daughter hated it but Oscar liked it, simple and cheap) 
---
8. Easy peasy meal – just using frozen broccoli and roast potatoes, pre made gluten free Yorkshire puddings, bisto gravy and sausages with 97% meat in them (cheap from Heron, not into the sausages filled with total rubbish as they taste rubbish to me)
---
9. Chicken satay sticks, houmous, cucumber and strawberry milkshake (tomatoes came with this and pitta bread -simple snack)
---
10. Scampi and sweet potato chips – obviously ketchup too.
---
11. Homemade beef stew in a pre made puff pastry with cut out shapes.
---
12.Crusts cut off rectangle sandwiches (of course houmous and cucumber) orange and fruit roll.
---
13. Cutting shapes into ham and cucumber to put on crackers.
---
14. Sunday roasts – sometimes they like taking food off my plate makes them feel special or cheeky (but hey, if they eat who cares! Well… I do… Why should I share!?) Long stemmed broccoli, cauliflower cheese, roasted garlic, homemade gravy and beef wellington. That's if you're feeling fancy.
---
15. Stuffed peppers – I know these ones look sparse in the stuffing but I couldn't be bothered as sometimes … Effort!
---
16. Your classic salmon and salad with caesar dressing – Oscar enjoys this actually (only with ketchup)
---
17. Oven chips and battered fish and salad.
---
18. Homemade coleslaw, steak and beef potato chips. Yes, seems extreme but the children love sweet potato chips and I love starving them apparently (sarcasm)
---
19. Wraps can work for either snack, lunch or tea! My children love wraps so works well – you can even use it for 'pizza' bases just use tomato puree, sprinkle cheese and ham then grill.
Lunch box idea: Ham and houmous, grated carrot wraps with pepperoni and babybels!
---
20. Meatball Boats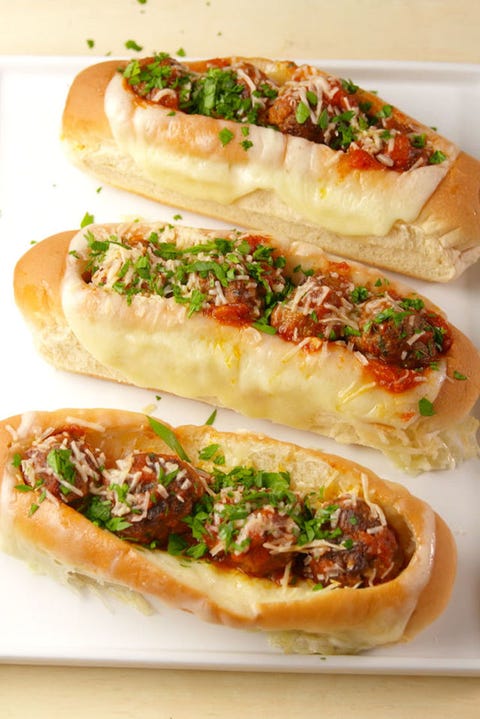 ---
21.  Pasta/spaghetti – tuna pasta. Chicken pasta. Tomato pasta, Spaghetti Lo Mein. Spaghetti Bolognaise… You get the jist.
---
22. I used quorn mince and beef mince with the veg in a cheese pitta.
---
23. Homemade burger, coleslaw, chopped up cheese, rice, cauliflower cheese (may seem odd mix but hey it worked and homemade burgers are simple and cheap to do plus I roast for less fat)
---
24. Roast chicken meals! Seeing all the food fresh ready to cook is good for them to learn some life skills rather than just expecting it as it is! I used to try to actually grow my vegetables in my cement pit (only managed mini carrots for one mouthful!)
---
25. Use ALL THE VEGETABLES! I'd made an alternative topping for Shepherds Pie using both sweet and white potatoes as well as beef mince and quorn mince.
FOR 25 EXTRA IDEAS:
Jacket potatoes

Toasties/ Eggy bread/ beans on toast/ mash and beans. 

Frittata/ Vegetable scrambled eggs

Rice/ cous cous/ Quinoa / Noodles

Quesadillas

Cornish/cheesy pasty

Samosas, spring rolls

Root veg chips

Taco Cups/ Cheeseburger Tacos

Cheeseburger Tater Tot Casserole

Macaroni and Cheese

Fakeaways such as, Asian crispy beef and Vegetable curry.
Pizza Pie/Mini Pepper Pizzas/Superfood Pizza

Lasagne

Ham and cheese pockets

Sloppy joes

Grilled Hotdogs with Fixin's

Chicken Bacon Ranch Casserole

Ultra-Crispy Baked Chicken Nuggets
TOP IDEA: DON'T DO THIS.
---
FOOD REVIEWS:
BAKING:
VITAMINS TO TRY:
SUBSCRIPTION FOOD BOXES:
MEALS:
For actual recipe ideas try the below websites:
---
THOUGHTS
I've come to the conclusion after a long time of feeding children that quite frankly they can suck!
Also, that instagram and Pinterest lie to you painting pretty ideas of feeding children on fancy plates and everyone is happy.
You cannot spend every second of the day making fancy food to show off on your fancy social media.
I used to once feel that pressure to be the perfect mother but she doesn't exist (if she does my bad) trying to look perfect on social media feeding your children caviar or organic flown in bananas is just not realistic.
Now, don't get me wrong I will always try the best I can to ensure my children eat well (yes, I can be crazy on the EAT YOUR VEG) however, as time goes on I feel there should be a leeway to this because some weeks you lack the money, some days you're just so damn tired!
Below are a some photos I of meals from a while a go I've done –  I'm going to be honest behind these photos was a hell load of bribery and saying "just try it" about a million times (in this photo she was doing the peace sign!)
I have tried al sorts to try and get my children to eat healthy meals and my eldest is very fussy so I try from every other day doing home cooked meal then the alternative day sandwiches or nuggets.
I've tried feeding via a pretend aeroplane.
I've tried cooking groups, going out, staying in, picnics, involving in said meal times with cooking or choices, sitting with them, sitting with out them, at a table, not at a table, cute plates, not cute plates…
To cut a long story short my 'almost 4' year old is obsessed with cheese 'fandwiches' and peperami and my 7 and a half year old only ever wants cucumber sandwiches (technically not the end of the world) both enjoy houmous – it features alot! My son is so easy to feed but my daughter can kick off a bit although I'm lucky as some children are really fussy. Well, more fussier than mine which must deserve a medal!
HOPE THIS BLOG HELPED!